Olivia Kelleher
A father and son who run a handmade sweet factory which has been in operation for 95 years, and a seaside corner shop owner who stocks everything from a needle to an anchor were declared the joint winners of the Cork Person of the Year award on Friday afternoon.
Shandon Sweet Factory and Shop has been trading since 1928 beside Shandon steeple on the northside of Cork city. Whilst Angela's Shop and Coffee Dock which overlooks the beach in Fountainstown, Co Cork has served as a one-stop shop for holidaymakers and locals looking for ice cream, buckets and spades and fishing nets for decades.
The award judges, Ann Doherty, Chief Executive Of Cork City Council and Tim Lucey Chief Executive of Cork County Council, said they were struck by the "adaptability and quality" of both businesses, as well as their contribution to the fabric of Cork through the generations.
Shandon Sweets is Ireland's last remaining traditional shop and sweet factory, run by father and son duo Tony and Dan Linehan. The pair have overcome many obstacles over the years, including a major fire in 2019.
The business has been owned and run by the Linehan family for close to a century and was first called the Exchange Toffee Works. It was set up by Jimmy Linehan, father to Dan Linehan.
The huge copper pans, the moulding machines and even the recipe are the same since Jimmy Linehan founded the factory.
Tony Linehan said that winning the award was a major change from his normal Friday when he is usually "up to his eyes in bulls eyes and clove rocks." He added that he was hopeful of further growth in the business and asked members of the public to continue to support local businesses.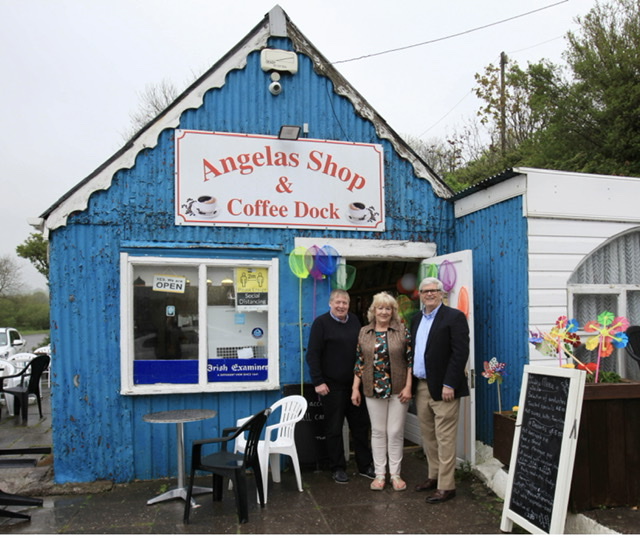 A business with a similar legacy is Angela's shop in Fountainstown. Angela Cantwell has owned the shop for more than 30 years and it has long been a staple for visitors and locals alike.
Visibly shocked when her name was announced, Ms Cantwell told Marty Morrissey that she opened the business in 1989 when it was "falling down" and without even a fridge to store items. She said that her daughter often says the shop resembles a nursing home because she enjoys chatting to elderly customers so much.
This year marked the 30th anniversary of the awards. Veteran broadcaster Mike Murphy was made an Honorary Corkman, celebrating his sixty years as a broadcaster. He said that his mother was an "O'Connell from Midleton" but stressed he must have received the award for being "the dope" who opted to be buried in a coffin in Macroom for an RTÉ sketch show.
The founder of the Cork Sexual Violence Centre Mary Crilly was also inducted into the Hall of Fame. International tenor Finbar Wright received the "Cork Supreme Award" for representing the county in such a distinguished way in concert halls around the world. Rachael Blackmore, the first female jockey to win the Aintree Grand National, Cheltenham Gold Cup and leading jockey at Cheltenham was bestowed with an Honorary Corkwoman title.
An award was also presented to Barry Woods, retired director from the then Cork Examiner, to mark his work as a founding member of the awards organising team. Appreciation Awards went to retiring members of RTE, long-standing award scheme partners, Director General of RTE Dee Forbes and RTE Commercial Director Geraldine O'Leary. The awards were presented by the Lord Mayor of Cork Cllr Deirdre Forde and the Deputy Mayor of Cork County Cllr Deirdre O'Brien. Masters of Ceremonies were broadcasters Anne Cassin and Marty Morrissey.