Jess Glass, PA
Britain's Prince Harry said he is concerned by the "unchecked power, influence and criminality" of the Daily Mail publisher in a newly-released statement for his High Court claim as he was accused of being "obsessed" with the paper.
Harry is one of seven people bringing claims against the publisher in the UK over denied allegations it carried out or commissioned illegal or unlawful information-gathering, along with Baroness Doreen Lawrence of Clarendon and Sir Elton John.
The allegations include the hiring of private investigators to place listening devices inside cars, the "blagging" of private records and the accessing and recording of private phone conversations.
In a witness statement made public on Tuesday, Harry alleged that journalists at Associated Newspapers Limited (ANL) "are criminals with journalistic powers which should concern every single one of us".
"The British public deserve to know the full extent of this cover-up and I feel it is my duty to expose it," he said.
However, in a statement, a spokesperson for ANL said that Harry "has become a serial litigant against Mail newspapers with whom he seems obsessed".
The spokesperson continued: "Associated Newspapers profoundly regrets his untrue, inflammatory and deeply offensive remarks about the Mail's journalists.
"If they were repeated outside court, they would be highly defamatory."
Also made public on Tuesday was a witness statement from private investigator Gavin Burrows – who was named in documents detailing the claims of Harry, Sir Elton John and his husband David Furnish and Sadie Frost – and who allegedly conducted unlawful information gathering for ANL.
ANL has previously said that an alleged confession by Mr Burrows had "prompted the claims".
However, in his statement, Mr Burrows said: "I was not instructed or commissioned by the Mail on Sunday or the Daily Mail to conduct any unlawful information gathering."
In the details of Harry's claim, lawyers for the duke alleged that Mr Burrows was paid in cash "left at a drop-off location in Regent's Street" for unlawful information gathering.
In his statement, Mr Burrows said: "Neither I nor my companies received payment in cash, bank transfer, or bankers' draft from … the Mail on Sunday or the Daily Mail."
Other witness statements provided to the media on Tuesday, following submissions by the PA news agency, included those of Baroness Lawrence, Sir Elton, Hugh Grant and Sadie Frost.
The court was previously told the alleged targeting of Baroness Lawrence included the illegal interception of her voicemails and the monitoring of her bank accounts as well as "corrupt payments to serving Metropolitan Police Service police officers, including on the Stephen Lawrence murder investigations, for confidential information".
In her witness statement, Baroness Lawrence said: "After all the failings of the justice system, the police institution, the false promises, and the strange things I have seen people do, I did not think it was possible to still be discovering things that shock and outrage me to the centre of my heart.
"It seems I was naive."
An ANL spokesperson previously said the publisher was "profoundly saddened that she has been persuaded to bring this case".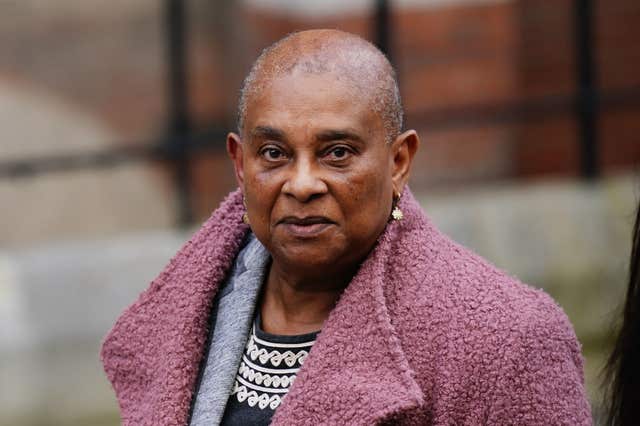 The spokesperson said on Tuesday that three private investigators had been referenced in Baroness Lawrence's claim – Mr Burrows who "refutes her claims", a second investigator who has "publicly denied any unlawful information gathering for Associated" and a third who was "never commissioned, instructed or paid" for unlawful information gathering by ANL.
Also released on Tuesday was Sir Elton's witness statement, who said that his "fast schedule" and regular international travel as a performer had sometimes taken their toll.
He continued: "It was private and apart from being illegal and immoral for The Mail to be looking around and intruding into this area of my life, it was inhumane."
Sir Elton and Mr Furnish have alleged the landline phone of their Windsor home was tapped by investigators on ANL's behalf and that the birth certificate of their first child was unlawfully obtained by the publisher.
Referencing his two sons, Sir Elton said: "We want Zachary and Elijah to grow up safe and protected, and for the British public to have its right to hear what has happened, because this affects us all."
Addressing the witness statements of the people bringing the claims, an ANL spokesperson said: "Both emotive and emotional, the language used in them is remarkable for its similarity.
"The more lurid the allegations made by the claimants, the less evidence is supplied to support them.
"Virtually all of them, however, cite Burrows' alleged confession.
"Associated Newspapers categorically denies the claims made in their witness statements."
ANL's lawyers have argued the group of high-profile individuals should not be allowed to bring their claims as they have been brought too late.
Adrian Beltrami KC, in written submissions, previously argued the claims were "stale" and "largely inferential".
The barrister said the individuals have to prove they did not know earlier, or could not have discovered earlier, they might have had a claim against ANL for alleged misuse of their private information.
However, Harry said in his witness statement: "If the most influential newspaper company can successfully evade justice, then in my opinion the whole country is doomed."
The hearing before Mr Justice Nicklin is due to conclude on Thursday with a decision expected at a later date.