By PA Sport Staff
Police have opened an investigation into the alleged threatening communications received by referee Kevin Clancy following Saturday's cinch Premiership clash between Celtic and Rangers.
Ange Postecoglou's side moved 12 points clear at the top of the standings after winning the Old Firm encounter 3-2 at Celtic Park.
Rangers boss Michael Beale claimed Clancy got two major decisions wrong, with the Ibrox club subsequently writing to the Scottish Football Association seeking an explanation for one of them – an early goal from Alfredo Morelos, which was disallowed.
The governing body revealed on Monday that it had "referred a significant volume of threatening and abusive emails to Police Scotland after personal and professional contact details" of the referee were published online following the game.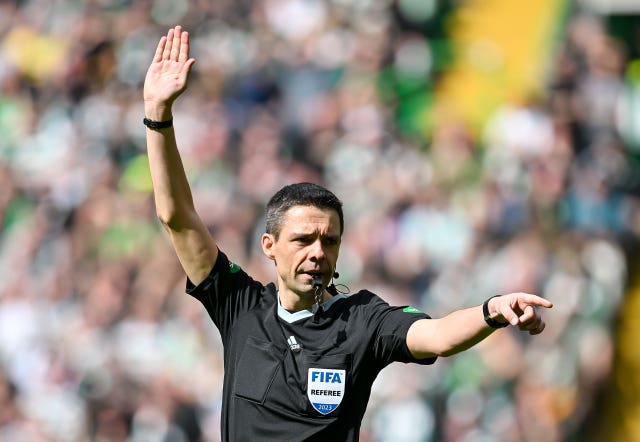 The SFA said its security and integrity manager has been liaising with Clancy and police over the "series of unacceptable messages being sent via email and phone", with Police Scotland confirming it is now looking into it.
"We are investigating alleged threatening communications which were reported to us by the SFA today," it said in a statement posted on Twitter.
"All reports of this nature are treated with the utmost seriousness and will be investigated thoroughly.
"We will provide support to those affected as our investigation progresses."
SFA chief executive Ian Maxwell said that some of the messages were "potentially criminal in nature and include threats and abuse towards Kevin and his family".
"We all have a responsibility to protect our game and those essential to it," he said, while the Scottish Senior Football Referees' Association, the body that represents officials, condemned the "wholly unacceptable level of abuse".
A statement added: "Referees are not immune from criticism and accept there will always be legitimate debate on subjective decision-making.
"However, when this becomes targeted threats and abuse, impacting on their personal and professional lives, this clearly crosses the line.
"We continue to offer our full support to Kevin and all our members, many of whom have experienced an increase in abuse this season.
"We welcome the Scottish FA's strong support to protect referees and the wider image of the game."
A Rangers spokesperson said: "Firstly, Rangers condemns in the strongest terms any abuse of match officials. We are all passionate about our game, but targeted, personal abuse of referees cannot be tolerated.
"The club can confirm the Scottish FA has responded with regards to the disallowed Alfredo Morelos goal, with the response claiming the correct decision was taken.
"The club is astonished by this, especially given most observers, including former referees and former players, could see no issue with the goal standing.
"This comes following a weekend in England where PGMOL have offered an apology to Brighton and Hove Albion for the non-award of a penalty in their match with Tottenham Hotspur, alongside a pledge to review the incident.
"While an apology does not alter the outcome of a match, such responsibility and openness would be welcome in Scotland."