By Gráinne Ní Aodha, PA
Taoiseach Leo Varadkar has said that the Government expects senior civil servant Robert Watt to carry out the findings of a report into a botched secondment.
The secretary general of the Department of Health rejected the findings of an external report into an attempt last year to second former chief medical officer Dr Tony Holohan to a post in Trinity College.
The report found there was a lack of formal consultation with the Taoiseach, Minister for Health and the Department of Public Expenditure, and that the corresponding proposed annual funding of €2 million bypassed accepted protocols.
Appearing before an Oireachtas committee on Wednesday, Mr Watt strongly rejected parts of the report put to him by TDs, and was accused of being "arrogantly dismissive".
When asked whether he had confidence in Mr Watt, Mr Varadkar said that the Government has accepted the recommendations of the report, which does not make findings against any individual and found that those involved acted in good faith.
"We can't see this happen again," he said, adding: "I fully expect Mr Watt to fully implement that report and its findings."
He continued: "I didn't have a chance to see everything he said (at committee), but my understanding is that he said that he would implement it and that's part of his responsibility now."
Minister for Health Stephen Donnelly said: "Ultimately what matters is what government accepts, not what the civil service accepts.
"Government accepts the report, the recommendations will be implemented, Minister Donohoe and I are talking to that effect, and there is no question about that. It is government who has accepted this, it is government who will implement it and that's all there is to it.
"It doesn't matter whether civil servants accept or do not accept recommendations in reports."
Mr Donnelly was also asked about a revelation in the Oireachtas committee by Mr Watt that he had tried to contact the minister about the €2 million annual funding – but it never reached him because his phone had been "hacked".
He and another department official were advised not to use their devices during a St Patrick's Day trip to the US in March 2022.
Mr Donnelly said: "There was a security issue with our phones and with our laptops when we were in Texas. We need to keep the details reasonably vague, but yes, there was a period of time where we were asked not to use our phones, not to use our laptops."
He said they had been asked not to use their emails for a week.
"I wasn't aware of an email being sent, it wasn't received, but I'm not sure of the details on that," he added.
When asked if Wednesday was the first time Mr Donnelly had heard about an attempt to send an email to him about the secondment, he said it was.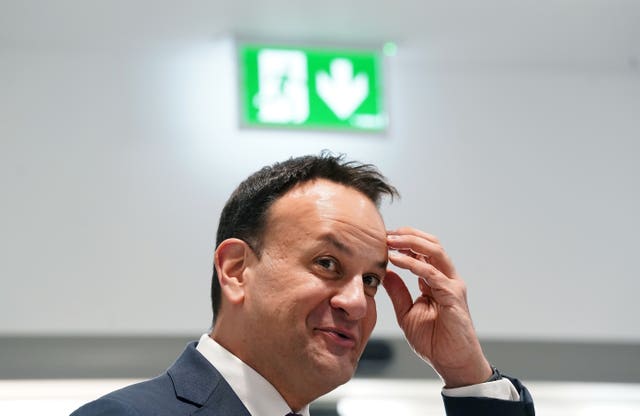 Asked whether senior civil servants contradicting each other in public was damaging to the working of government, Mr Varadkar said it was not.
"When I talk to voters, when I talk to constituents, they're not talking about this issue," the Taoiseach said.
"They're talking about job security, they're talking about traffic, they're talking about housing, they're talking about healthcare and how we should invest more in healthcare, which is exactly what we're doing here.
"Those are the issues people are talking to me on the doorsteps about."
When asked whether he would lead Fine Gael into the next general election, Mr Varadkar said: "I will.
"My expectation in the next election is that we will have an election result in the mid-20s, that we will have roughly 45 seats, and we'll have between 10 and 15 new TDs."
He also said: "Let's not forget in the last general election – which was a difficult election for my party – we elected five new TDs. Two of those are ministers and three of those are very much on the rise within the party."