By Cillian Sherlock, PA
Taoiseach Leo Varadkar has criticised opposition motions against the Government as "political theatre" as both the Labour Party and Sinn Féin prepare votes over the ending of the eviction ban next week.
Labour has confirmed it will use its private members' time next week to bring forward a motion of no confidence in the Government over the end of the eviction ban.
On Wednesday, the Government won a vote on ending the ban at the end of March after it secured a deal with a group of independents.
Labour leader Ivana Bacik said tabling the no confidence motion is not something the party did lightly, but it had "no choice in the current circumstances".
Labour table motion of no confidence in Fine Gael, Fianna Fáil and the Green Party.

By its refusal to extend the eviction ban, Government has made a deliberate and conscious decision to expose thousands of people to the risk of immediate homelessness.https://t.co/YU3q3I93ol pic.twitter.com/94SlvybK5U

— The Labour Party (@labour) March 23, 2023
Meanwhile, Sinn Féin housing spokesman Eoin Ó Broin has introduced a Bill to extend the eviction ban until January 31st.
Speaking to reporters outside Leinster House, Mr Ó Broin said there will be a vote on the Bill on Wednesday.
"While the Government may have given up on renters, we haven't," he said, adding he would also support the Labour motion of no confidence next week.
"I've never had any confidence in this Government. As often as I can, if I get the chance, I will vote no confidence in this Government," he said.
Asked if he believed the Government would extend the moratorium, Mr Ó Broin said he was "just an eternal optimist".
"We'll do everything we can," he said.
Mr Varadkar said the motion of no confidence will be defeated "by a significant margin".
"Does anyone really think these motions are going to pass? Of course they're not. This is political theatre and it is disappointing we don't see the opposition using its time to actually put forward solutions," he told reporters ahead of a meeting of EU leaders in Brussels.
Sinn Féin introduces bill that would force government to reverse decision to end eviction ban - @EOBroin

"The government has abandoned renters. Sinn Féin never will. We have one last chance to stop thousands losing their homes."https://t.co/kIPbC52M8b pic.twitter.com/rnGr0KlOTB

— Sinn Féin (@sinnfeinireland) March 23, 2023
During heated exchanges at Leaders' Questions on Thursday, Sinn Féin's finance spokesperson Pearse Doherty accused the Government of making a "cruel, heartless and calculated decision" to make more people homeless.
"It was an absolutely despicable act and one which the people in constituencies of every Government TD and every independent who voted to enable these actions will never forget," he said.
Mr Doherty said independent TDs who voted with the Government had received "30 pieces of silver".
Tánaiste Micheál Martin said extending the eviction ban would "exacerbate the homeless situation".
He accused Sinn Féin of dishonesty and a "make it up as you go along approach".
Mr Martin acknowledged that "homelessness and housing is a very serious issue in this country".
However, he said there had been a fundamental shift in the Government's approach in housing in terms of interventions on social housing and affordable homes.
"It is about supply, supply, supply," he said.
Mr Martin said the Sinn Féin proposal to extend the ban to January would "make matters worse".
"We are implementing measures to deal with homelessness, in terms of the in-situ scheme, in terms of leasing, and in terms of cost rental measures," he said.
Ms Bacik said everyone has the right to a home, but Wednesday's vote showed the Government's belief in this was "qualified".
"The vote copper-fastened the fear and anxiety for everyone in this country who was renting and who has received a notice to quit in recent months," she said.
She said the rental sector was in "utter meltdown" and the Government had revealed itself to be in a "tailspin".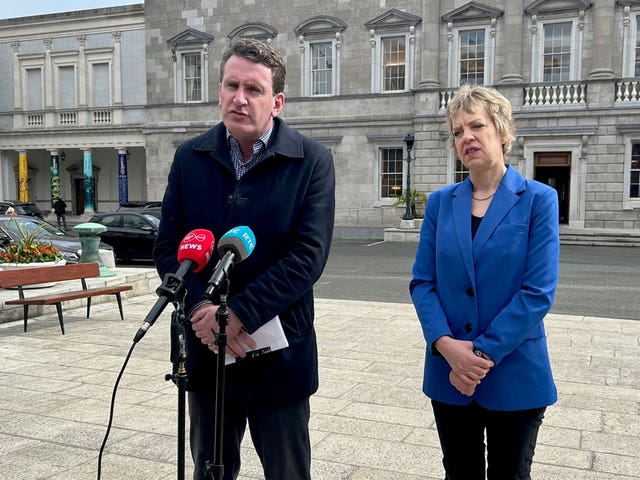 Mr Martin responded: "The easiest thing to do is to call for rent freezes, to call for indefinite bans – what impact do you think that is going to have on the rental market?"
He said 13,000 homes were lost in the rental stock last year and Sinn Féin had "demonised landlords from the get-go".
"We need to retain those who are renting out their homes at the moment in the rental market, and we need to attract new people in," Mr Martin said.
He said it was a "myth" that the Government had done nothing throughout the eviction ban.
"Nobody has a monopoly on empathy. Everybody here wants to do the right thing," Mr Martin added.
While most members of the Rural Independent Group voted with the Government after securing amendments, Wexford TD Verona Murphy opposed the motion.
Becoming emotional while speaking during Leaders' Questions, Ms Murphy particularly criticised the Government on planning.
"You and your minister have failed to influence policy that makes viability a planning consideration," she said.
"It's time we all stopped the BS. It's a time when we should be pulling together," she added.
"If I have one child in Wexford that isn't accommodated, I'll be bringing it here, and it'll be sitting in the Ceann Comhairle's lap," Ms Murphy said.
Mr Martin took issue with Ms Murphy's characterisation of a Department of Housing official as not having "any brains", responding: "We're not all as ingenious as you are."