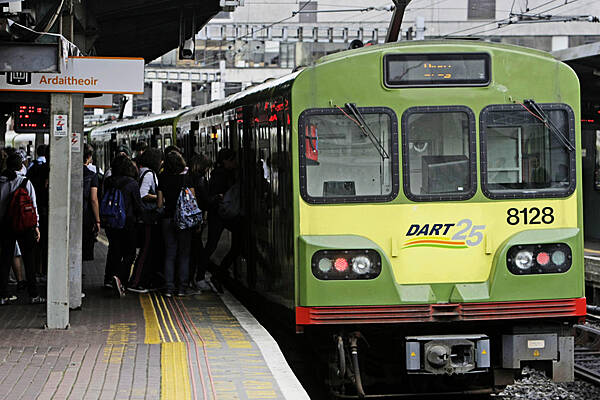 Plans for a new DART line to Celbridge have been revealed.
The project will extend DART trains from Dublin city centre to Hazelhatch and Celbridge train station in Co Kildare, as part of a wider expansion of DART services.
It involved 20 kilometres of a new electrified track and the project will move into the planning system by the end of the month.
Subject to planning permission and funding, work could begin in 2025 with the intention to have it operating by the end of the decade.
The plan would see up to 11 trains each way per hour at peak times serving stations upon completion of the project. This will increase the number of passengers that can travel to and from Dublin city along the route from circa 5,000 each way at present to 20,000 in future, according to the Department of Transport.
The project will see construction of a new station, Heuston West, at Islandbridge, and the quadrupling of rail track between Park West and Heuston. It also involves electrification of the Phoenix Park Tunnel along with the wider route, allowing DART trains to operate between Hazelhatch/Celbridge and Connolly station (and beyond), as well as Heuston station.
The Department said the Celbridge move is part of a wider DART programme which will treble the current DART rail network from 53km to 150km, extending the DART to Drogheda to the north, Maynooth and M3 Parkway to the west and Hazelhatch and Celbridge to the south-west.
"This will allow many more people to travel conveniently and sustainably by public transport. The number of people living within 1km of a DART station will increase hugely from about 250,000 at present to 600,000 in future," it said in a statement.
Eamon Ryan, the Minister for Transport, said: "This rail project will transform the lives of people living in communities along the route, giving them a fast, reliable and frequent train service into Dublin. It also means that we can move ahead with good, transport led planning, facilitating vital affordable new housing along the route. I look forward to the DART+ Programme rolling-out further in the coming years. We'll start this with the delivery of the first batch of 90 new DART carriages arriving next year. This will see new DART services between Drogheda and Dublin city from early 2025, before then expanding to other areas including Hazelhatch and Celbridge."