By Charlotte McLaughlin, PA Senior Entertainment Reporter
David Dimbleby has said the prime minister's power to be involved with appointing the BBC chair should be "curtailed" after Richard Sharp resigned from the position.
The former Question Time presenter, 84, who has also presented the corporation's coverage of key events such as general elections and the Queen's funeral, was speaking after Mr Sharp was found to have broken the rules.
Adam Heppinstall KC's review said Mr Sharp, a former Tory donor, failed to disclose that he played a role in getting then-PM Boris Johnson an £800,000 loan guarantee.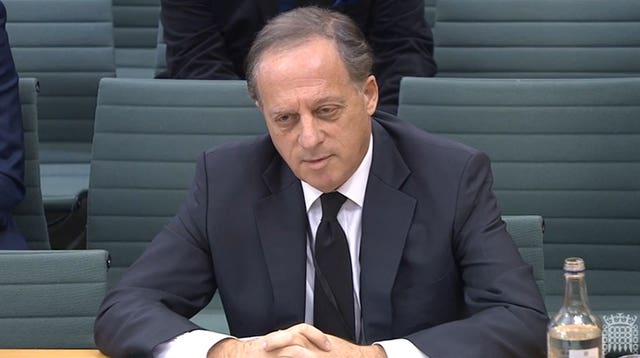 On Saturday, Dimbleby told BBC Radio 4's Today programme: "Prime ministers always want chairman of the BBC who they think will help bend the BBC their way, lean the BBC their way, I mean, it has a long history."
He added that what then happens is after appointment, the chair understands the "importance of a BBC with balance and fairness and on the whole doesn't act in a partisan way".
Dimbleby also said "the power" of the PM "needs to be curtailed in this particular" area as the BBC is an "incredibly important institution".
The broadcaster added that the corporation needs balance and fairness, and "the boss of it has to be chosen by somebody".
He also said: "I think this is a good reason now for it not to be chosen, ever again, directly by the prime minister. I have little hope of that changing."
Mr Sharp's four-year appointment in February 2021 followed a panel interviewing candidates and advising ministers on the new BBC chair and the Department for Digital, Culture, Media & Sport putting him down as its "preferred candidate".
Explaining how the appointment process could be changed, Dimbleby said: "All the most important positions… you could farm them out to a cross party committee.
"We're a parliamentary democracy, we ought to trust each other about things like the flow of information."
"I do think a different way needs to be found now of choosing the chairman"

Broadcaster David Dimbleby says a cross party public commission should people appoint to these kind of jobs - but rules himself out of being BBC chairman himself#R4Todayhttps://t.co/FoQKVvvOfS

— BBC Radio 4 Today (@BBCr4today) April 29, 2023
He added: "I've never met (Mr) Sharp, indeed, but…(I've heard) talk from inside (that) he's quite a good chairman – but it's the process that's wrong and it's the process that creates suspicion about the role of a prime minister."
Dimbleby said he has applied twice for the role as BBC chair and ruled himself out of a third attempt.
He added: "I'm now focusing on broadcasting, which has always been my greatest pleasure so I shall carry on doing that now.
"No, I won't apply and if I'm asked to do it, I will say 'No, thank you very much, not this time round'."
Mr Johnson recommended Mr Sharp for the influential job after Mr Sharp informed him he would be telling the Cabinet Secretary about his friend Sam Blyth's offer to help the then-prime minister with his financial troubles.
Following the report, Mr Sharp insisted he made an introduction  "with the best of intentions" to ensure all rules were being followed.
"I understood this recusal to be absolute. This was my error," Mr Sharp said.
"I would like once again to apologise for that oversight – inadvertent though it was – and for the distraction these events have caused the BBC."