By Jonathan McCambridge and David Young, PA
Current political leaders in Northern Ireland need to act with the same "courage and vision" as those who secured the Good Friday Agreement, the man who chaired the 1998 negotiations has said.
Former US senator George Mitchell said history would judge favourably those who had helped to bring about the historic peace deal.
Several events are taking place in Northern Ireland as people reflect 25 years on from the Good Friday Agreement.
While the 25th anniversary of the signing of the accord is April 10th, the holy day of Good Friday will always be associated with the diplomatic feat that brought 30 years of bloodshed largely to an end.
A number of key architects of the deal as well as current politicians gathered for a commemorative event at Stormont.
Delivering a video address, Mr Mitchell said the greatest heroes from that time were the people of Northern Ireland and their political leaders.
He said: "The people supported, worked for and established a democratic, peaceful process as their preferred form of governance.
"They rejected violence as a way to resolve their differences."
Mr Mitchell said many politicians had taken huge risks.
He added: "But they did what was right for the people they represented and history will judge them favourably."
The former senator said the Good Friday Agreement did not resolve all outstanding issues but that it did end political violence.
The anniversary of the historic deal comes as Northern Ireland's powersharing institutions remain collapsed in a protest by the DUP over post-Brexit trading arrangements.
Mr Mitchell added: "It is now up to the current leaders of Northern Ireland, of the United Kingdom, of Ireland, to act with the same courage and vision as did their predecessors 25 years ago.
"Current leaders can and must do whatever is necessary to preserve peace, to restore self-government to Northern Ireland, to ensure for those they represent freedom, hope and opportunity for all."
Former taoiseach Bertie Ahern told the Stormont ceremony it was not fair to the people of Northern Ireland that some institutions of the Good Friday Agreement are not currently working.
He said: "Personally, I don't think it is sustainable or desirable or fair to the people of Northern Ireland that the institutions of the Good Friday Agreement, whether they be here in the Assembly, the north south bodies or the British Irish council, are not working.
"I just wish that those who have the power nowadays to make these things happen will do so very quickly when these few weeks are over.
"Otherwise, our efforts are partially in vain and I don't think any of us wish that."
A number of Northern Ireland politicians who helped to negotiate the peace deal also addressed the event.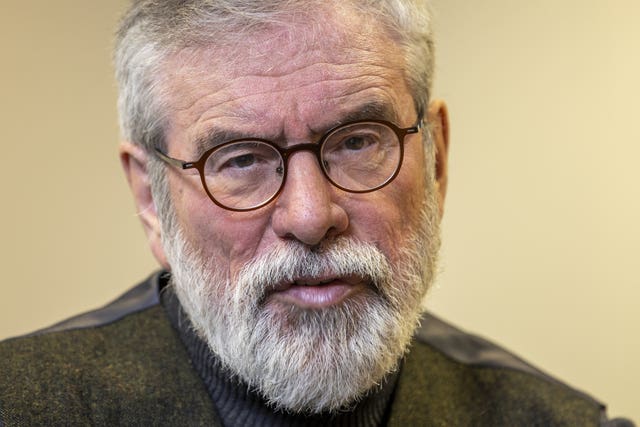 Former Sinn Féin leader Gerry Adams said countless lives had been saved by the Good Friday Agreement.
He said: "The last 25 years have been up and down, and there have been many twists and turns, but one thing is for certain, we are all in a better place.
"Despite current challenges, the future is bright.
"If you doubt that, think of the countless lives that have been saved or reflect on events in other parts of the world at this time."
Referring to a number of young people who took part in the ceremony, former Ulster Unionist leader Lord Empey said: "They are the second generation that has grown up in this country who have no working knowledge of what violence and our Troubles meant.
"If there's nothing else it has achieved, that in itself is a victory."
Former SDLP leader Mark Durkan said those who negotiated the agreement provided a lesson for today.
He said: "We can bring back the spirit and the ethic that they put into achieving the agreement.
"That sense of collective purpose, that ability to cut through all the noise of difference and create shared institutions and shared arrangements."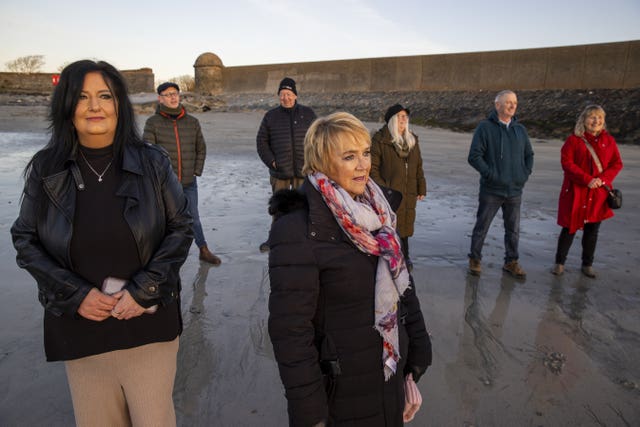 On Friday morning, some victims of the Troubles gathered on a Co Down beach to watch the sun rise as they looked back on the deal that changed the region's future and became a blueprint for resolving global conflicts.
In Belfast, people from the Shankill and Falls areas formed a human chain and stood in silence for 25 seconds.
In Dublin, the names of the nearly 3,600 people who died as a result of conflict in Northern Ireland between 1966 and 2019 are being read out loud as part of a ceremony on St Stephen's Green.
Next week, US president Joe Biden will visit Belfast in a trip to commemorate a quarter of a decade since the US-brokered peace accord.
The following week, further events will be held which are to be attended by former US president Bill Clinton and his wife, former US secretary of state Hillary Clinton.