Gráinne Ní Aodha, PA
Minister for Justice Simon Harris has said it would be "unhelpful" if Garda sergeants and inspectors protested next week when US president Joe Biden is due to visit.
Mr Biden is due to visit locations across Ireland as part of commemorations for the 25th anniversary of the Good Friday Agreement.
Mr Biden's Irish ancestry is also expected to feature as part of the much-anticipated trip.
Members of the Association of Garda Sergeants and Inspectors (AGSI) are due to vote at a conference on Tuesday on whether to hold a protest next week as part of a dispute with the Garda Commissioner over rosters.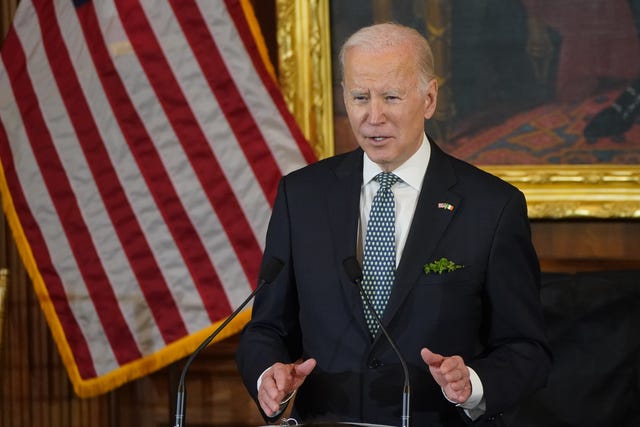 It relates to moving gardaí to a new roster during the Covid-19 pandemic, which the AGSI says has led to additional hours that are not family friendly.
Mr Harris addressed the conference in Galway on Monday, praising the Garda's work during the pandemic and calling the force a "world leader" in seizing criminals' assets.
On the new rostering arrangements, he "strongly encouraged" engagement with the conciliation processes such as the Workplace Relations Commission (WRC).
"The commission offers a route to ensuring that whatever roster is in place supports the health and well-being of members of An Garda Síochána as well as first and foremost serving the public, especially the most vulnerable in society," he said.
"My sincere hope is that Commissioner (Drew) Harris's decision to extend the contingency roster by a further six months provides time and space for all parties to engage with the WRC process."
He told reporters ahead of his speech that "it's not really for me to intervene" in the dispute.
"I'm very clear of the legal difference of my role and that of the Garda commissioner," he said.
"I'm also very clear that organisations like the AGSI and others campaign very intensively to have access to the industrial relations mechanisms of the state and quite rightly they now have that, the Government quite rightly conceded that point."
Asked if they should protest next week during the presidential visit, he said: "I'm conscious that it's for them to decide what action they may wish to take or not take, but I certainly hope it doesn't come to that. And I think that would be unhelpful."
Mr Harris also used the speech to praise the participation of women in the force, said that more members of the State's new communities were needed, and that assaults on gardaí must not become "an accepted risk of your job".
He said the Justice Plan 2023, due to be published this week, will ask that a forum be established under the Department of Justice to review Garda powers in relation to public order and anti-social behaviour.
He said that the Garda Commissioner is also "reviewing the equipment available to defend yourselves" to which the Minister gave his "full support".
"Just because you have chosen to dedicate yourselves to the safety of others, nobody has the right to assault you, threaten you or ram your vehicle," he said.
"The public revulsion whenever your members are attacked shows the Irish people do not accept and will not accept attacks on gardai.
"I am bringing forward legislation to increase the maximum sentence for assaults on members of An Garda Síochána and other emergency service workers to 12 years.
"I want to change the law in order to send a very clear message – attacks on members of An Garda Síochána will not be tolerated, and will be dealt with robustly."