Cillian Sherlock, PA
Minister for the Environment Eamon Ryan has said delays with An Bord Pleanála decisions are the "greatest constraint facing the country".
He was discussing the Government's commitment to halve transport emissions by 2030 at the Joint Committee on Environment and Climate Action.
Mr Ryan said emission reductions in transport "will be the most difficult of all sectors" under the Climate Action Plan 2023.
"Transport takes time, and we have baked-in planning and transport models that are not easily changed," he said.
Responding to a question from former minister for the environment Richard Bruton on delays with the BusConnects project, Mr Ryan agreed the rollout of the scheme is "painfully slow".
BusConnects is the National Transport Authority's (NTA) plan to improve bus services in cities. The scheme was subject to many objections and Mr Ryan said it had a "difficult birth".
He accepted the original designs for the project in Dublin were about building bus corridors rather than communities, adding that this undermined urban areas and was a "mistake".
He said the NTA revised the scheme through a "difficult public consultation process" and came up with better proposals.
However, he said the main delay comes from the planning system which he said was a "critical constraint".
"I think that speaks to a wider problem we have in our planning system and a need to accelerate our delivery of infrastructure across a whole range of different areas," he said
He used the example of one "relatively straightforward" BusConnects corridor that was due for a decision in October 2022 but has been pushed back until summer.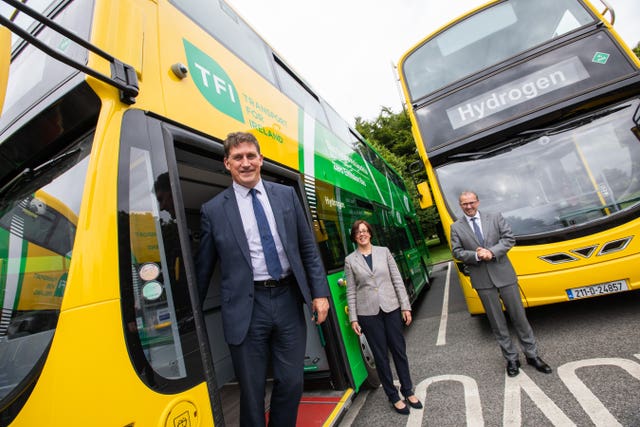 He said all public transport projects are under a "uncertain timeline".
"I have to be honest, the ability of An Bord Pleanála to deliver decisions on our transport, as well as our housing and energy and other infrastructure, is the greatest constraint facing the country.
"It is the biggest problem we have, in my mind, in terms of meeting our climate targets and delivering housing and water and other infrastructure we need for our future."
He said he backed the Planning and Development Bill to "streamline" the system.
At the committee, Mr Ryan said a recent Intergovernmental Panel on Climate Change report showed the current scale and pace of climate action is insufficient and "there is a rapidly closing window of opportunity to secure a liveable and sustainable future for all".
Modelling under the Government's Climate Action Plan 2023 shows that by 2030 there will be a need for a third of private cars to be battery electric vehicles, a 20 per cent reduction in total vehicle kilometres travelled, a 50 per cent reduction in fossil fuel usage, a 130 per cent increase in daily public transport journeys, a 23 per cent reduction in daily car journeys, and for walking, cycling and public transport to make up 50 per cent of journeys.