By Abi Jackson, PA
Greta Gerwig's hotly-anticipated Barbie movie – due for release in Irish cinemas in July – has already sparked a surge of Barbiecore trends. Now, if the trailer is anything to go by, a Nineties inline-skating revival could be on the cards too.
Ken – played by an ultra-bleach-blond Ryan Gosling – can be seen in the trailer holding up a pair of bright yellow skates, before admitting to Barbie: "I literally go nowhere without them!"
Rollerblading, or inline skating as it's generically known, was particularly big in the 1990s – gliding in as a modern update to the Eighties roller-skating obsession. For many fans, the appeal of inline skating has never waned, and plenty of people will relate to Ken's dedication to his 'blades.
So, is it time to polish off those kneepads?
What's the deal with inline skates?
As Richard Skidmore from Skatehut (skatehut.co.uk) explains, inline skating is "a bit of a subcategory of skating in general". The main difference between inline skates and roller-skates is wheel positioning: inline skates have a line of single wheels, as opposed to two side-by-side wheels. But there are differences in how the skates handle and the styles in which they're used, too.
Skidmore says inline skating tends to be more fitness focused. "You also see quite a lot of pro inline skaters who do a lot of tricks, and it's starting to be seen as a bit more of an extreme sport in its own right – going head-to-head with the skateboard, stunt scooter and BMX scene, all with mutual respect for each other. There are a lot of upcoming inline skaters on Instagram who are pushing their stuff out and they look fantastic, doing amazing acrobatic feats."
There are also plenty of people who simply enjoy a leisurely glide, using inline skates as an outdoor workout, or just for fun.
Fitness benefits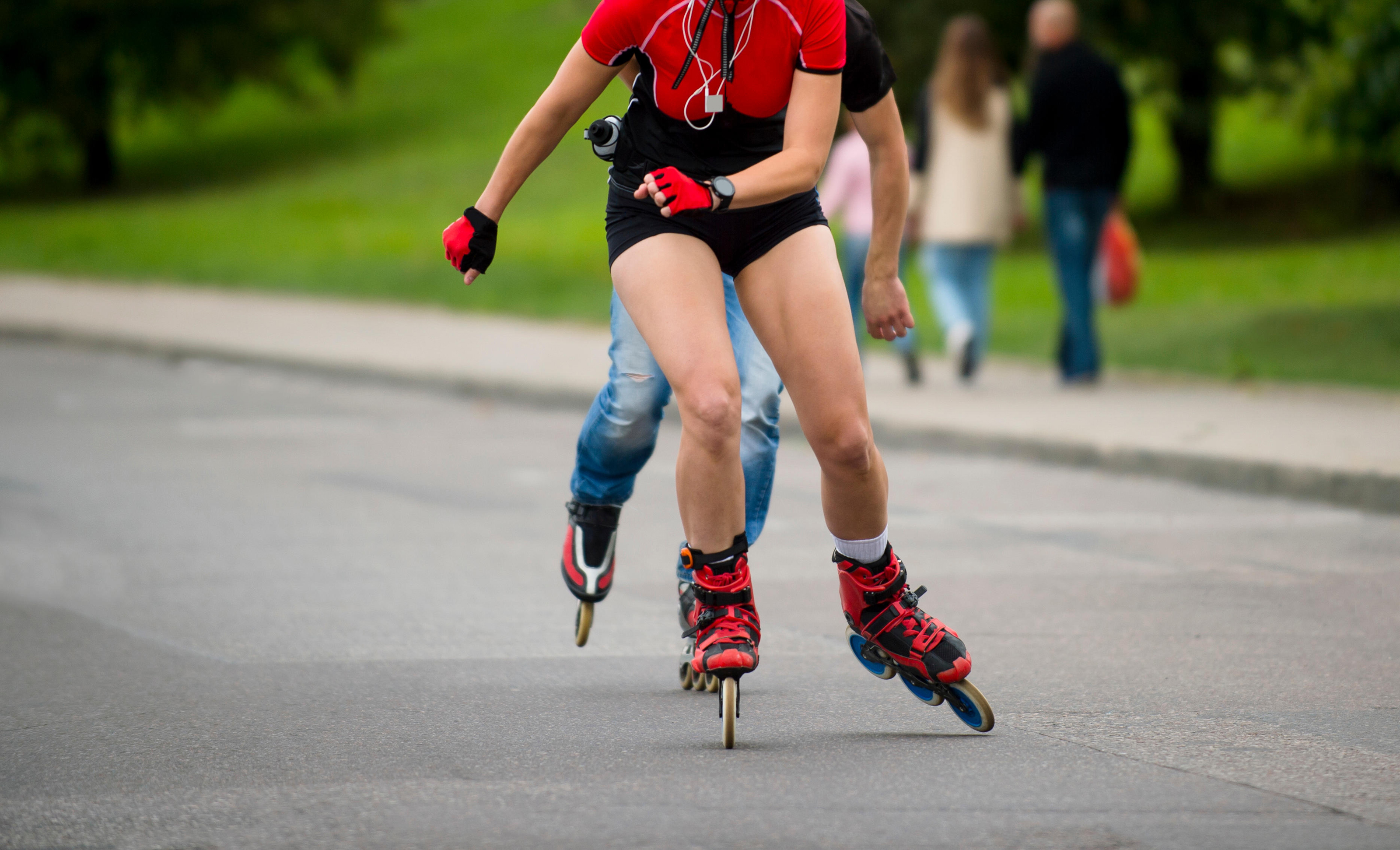 Of course, how fit you get depends on how you use your skates. But generally speaking, Skidmore says inline skating tends to promote fitness, "because it can be strenuous and quite physically demanding".
Even before bringing tricks into the equation, inline skating can provide an effective strengthening workout, particularly working the leg muscles and core. You'll also be engaging your upper body to help maintain balance and posture, and skating can improve co-ordination and agility. It's an aerobic activity too – a good skate session will certainly get the blood pumping. Then there's the fun factor and all the mental benefits of challenging yourself to learn a new skill and get moving.
The social scene
For lots of people, there's also a community, social element and a lifestyle attached to the skating scene. You can tap into this by getting some lessons.
"Getting an instructor is a great idea when starting your skating journey. Simply ask your local skate shop if they know of any nearby," suggests Stephen Johnstone, who works for Slick Willie's skate store and is an instructor with London Skate Life (londonskatelife.com), who do group and one-to-one lessons. "Getting lessons can help you get off to a good start, as you will have someone to motivate you to continue, especially after you fall over a few times – as you definitely will.

"One of the best parts of rollerblading is the social aspect," Johnstone adds. "Some of the most precious people in my life were brought to me through rollerblading, as it attracts very open-minded and adventurous people. There are events, like competitions or street skates, that can bring large numbers of us altogether to create some amazing memories.
"Even if you're someone who likes to teach themselves, it can be a good idea to get lessons anyway, just so you can meet the people skating in your area and find out about any street skates or events that happen nearby. At LSLife, we also organise free events, such as group skates and meet-ups."
Getting the right kit
If you're tempted to try inline skating, things you'll need to consider when getting kitted out are comfort, safety, and getting a skate that suits your needs.
If you already know what you're looking for, buying skates online might be fine. But Skidmore suggests it's helpful to visit a store, so you can get personalised advice and try some skates on.
"You can use your usual shoe size, but it might be a little different because you're not using skates in the same way you use shoes. It might be the case that you want something a bit more snug, or something looser so you can double up on socks – whatever suits you, basically," he says. "You want a good fit, because you're putting strain on the feet in different ways, so it's important to make sure you have that comfort and support, and you're not going to get blisters and aches.
"At our HQ store, we have people come in regularly, they'll get fitted, talk to the guys about what they're after, we'll see what works well for them and they can have a little test ride around the shop."
Safety is also paramount – for children and adults. At a minimum, this means kneepads, elbow pads and a helmet (even if you're only planning to do some casual gliding at the park or in your garden), and you might want to consider wrist guards and protective gloves. "Absolutely you'll need pads – we try to push this as much as we can," says Skidmore. "You'll see the pro riders wearing protective pads too."