By PA Sport Staff
Gary Neville regards Mauricio Pochettino as a good fit for Chelsea following the sacking of Graham Potter.
The Blues axed boss Potter, who succeeded Thomas Tuchel last September, on Sunday evening after a 2-0 home loss to Aston Villa 24 hours earlier, a result that left them with only four wins in their last 19 Premier League games and lying 11th in the table.
Former Manchester United and England defender Neville feels Chelsea now bringing in ex-Tottenham boss Pochettino would make sense.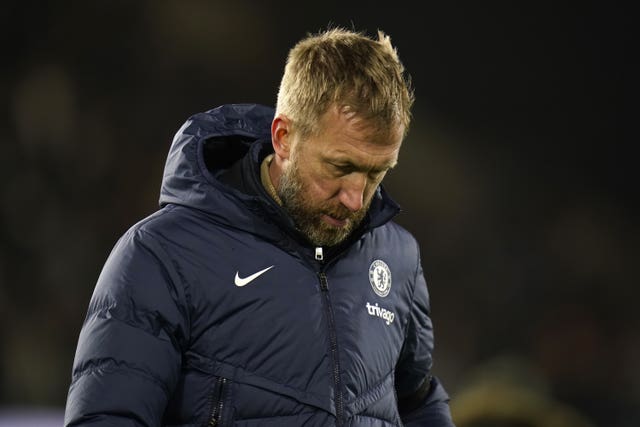 Neville said on Sky Sports' Monday Night Football: "Everything that Chelsea and (owner Todd) Boehly are saying is they've spent £600million and they've done their spending, apart from a centre-forward, for the next three years.
"If they appoint (Zinedine) Zidane, (Diego) Simeone, (Luis) Enrique, they're going to want another £300m because they won't like some of the players they've signed.
"They have to appoint a manager who is going to inherit and like the squad that they've got – I think that man, because a lot of them are young, is Pochettino."
Neville also likened the situation there has been at Chelsea to computer game Football Manager and "kids in a sweet shop".
He said: "I don't think it is a surprise to anybody – he (Potter) just didn't look right. At this moment in time, if you look at the ownership, it doesn't feel right, it doesn't look right, and usually when those two things happen, it's not right. His record wasn't great.
"What the owners talk about, in a long-term project…at the start of the season they had Tuchel, they brought in (Pierre-Emerick) Aubameyang, (Raheem) Sterling, (Kalidou) Koulibaly, more experienced players. Then they flip-flopped and went to a longer-term manager, brought in loads of young players on eight-year deals and spent £600m.
"They are a little bit all over the shop. I described them as chaotic at the start of the season, I'm not changing my mind. It is a little bit like Football Manager, the kids in the sweet shop, and the fact of the matter is they gave the manager too many sweets and he didn't know which one to pick, and it was a case of being a bit of a mess at the end."
Neville also said he thought there would be "an element of relief" from Potter, adding: "He's probably just thought 'this lot are mad'.
"I suspect Graham Potter has gone to (Chelsea co-sporting director Paul) Winstanley, knowing him from Brighton, and said 'get me out of here, because it doesn't suit me'.
"I don't think Chelsea were enjoying Graham Potter, but I don't think Graham Potter was enjoying Chelsea. And I in some ways almost feel like he should treat it as a little bit of a nightmare, like this season never happened in his life, and wake up, (like) Bobby Ewing in Dallas."
Neville's fellow Sky Sports pundit Jamie Carragher believes Potter, previously in charge at Ostersunds, Swansea and then Brighton, was the wrong appointment for Chelsea "straight away".
"You don't sack Thomas Tuchel and go to Graham Potter. He should have just stuck with Thomas Tuchel," former Liverpool and England defender Carragher said.
"The appointment was wrong straight away. I'm not saying Graham Potter couldn't work for a big club, it's just not the right fit. It's too ruthless at that club. When you haven't got a massive CV behind you, or big trophies, you've got to hit the ground running.
"I've been very critical of Todd Boehly, but I think this is the first decision he has got right."