Natalia Penza
Dani Alves' model wife is reportedly asking him for a divorce following his arrest and incarceration over an alleged nightclub sex assault.
Joana Sanz removed most of the photos of her with the footballer from her Instagram last week after it emerged he was claiming he had consensual sex with his female accuser after initially denying he knew her.
On Tuesday, a Spanish TV programme claimed Alves' wife of nearly five years had communicated her divorce demand to her lawyers after her husband refused to see her in the prison near Barcelona where he is being held on remand.
The 29-year-old Tenerife-born model has yet to make any official comment following the divorce bombshell on respected Telecinco show El Programme de Ana Rosa on Tuesday morning.
Sanz's decision to erase most of her photos with 39-year-old Alves, except a couple linked to advertising campaigns, turned heads in Spain and abroad after her initial show of support for the Brazilian international.
Following the footballer's January 20th arrest in Barcelona the brunette, who the footballer had accompanied to Spain from Mexico following her mother's death, said she had lost the "two pillars in my life".
Hours before Alves was remanded in custody and before reports he was now admitting to sex with his female accuser but claiming it was consensual started surfacing, she posted a photo of them holding hands with the message 'Together' in English.
Her apparent change in attitude coincided with comments made by his new lawyer Cristobal Martell last week saying the footballer had changed his version of events about what happened at iconic Barcelona nightclub Sutton late last month to cover up his "infidelity".
Ms Sanz's manager Silvia Bosch, when asked about the divorce report on Spanish programme El Programa de Ana Rosa, which has been widely echoed by Spanish press, said on Tuesday afternoon: "Joana is not making any sort of comment and will continue that way."
The response followed two Instagram Post story posts by Ms Sanz earlier in the day responding to other claims by the TV programme about her and Dani Alves - but staying silent about the divorce issue.
She wrote: "It's obvious you invent news if you haven't got it" and penned a series of laughing emoticons alongside claims aired on El Programa de Ana Rosa about her husband changing his initial plans to go out with Joana the night of the alleged assault for a boys' night out instead."
And she wrote the word 'FALSE' in capped up red letters alongside another part of the Spanish TV station's news report claiming she now had "no doubt" about Alves' female accuser's version of events.
But as of late Tuesday afternoon she stayed silent about the divorce claim.
It prompted one Spanish news website to say: "The fact the model has denied only part, and not the headline part of the news, appears to signal the rest of the information, namely that she has asked Dani Alves for a divorce, is indeed correct."
It also came after she was subjected to cruel online abuse by Internet trolls which she posted examples of on her Instagram in an attempt to shame those responsible.
Alves' ex-wife has been outspoken in her defence of the player, who was sacked by Mexican side UNAM Pumas after his arrest.
Dana Dinorah said at the start of last week: "I'm still in shock.It seems like it's a nightmare, and it's not happening."
Insisting she believed the father of their two children was innocent, the Brazilian-based businesswoman said in an interview with a Spanish TV programme: "Dani would never ever ever do this. I say this because I've known him for 22 years and was married to him for 10.
"This has been a shock for me and for my children. I have two teenage children who are suffering."
Initially it was reported Alves had been accused of putting his hands down his accuser's underwear inside the nightclub before it emerged the woman had alleged she was slapped round the face and raped in a toilet.
Court officials have confirmed Alves is under investigation on suspicion of sexually assaulting a woman, but has not confirmed the exact nature of the allegations against him.
His new lawyer submitted a bail application on Monday, arguing the footballer is not a flight risk and agreeing to his client having his passport taken away, so he can't leave Spain and wearing an electronic tag if necessary as part of his bail conditions.
The decision on whether he is released pending an ongoing criminal probe is expected to be taken sometime next month.
Both the state prosecutor and a lawyer acting for Alves' accuser are expected to oppose the bail application from his lawyer.
The final decision on a conditional release would be taken by a higher court and not the one that is currently investigating the footballer.
Investigations of the sort currently being conducted by the investigating magistrate can take months and even years in some cases to complete, especially when suspects are on bail.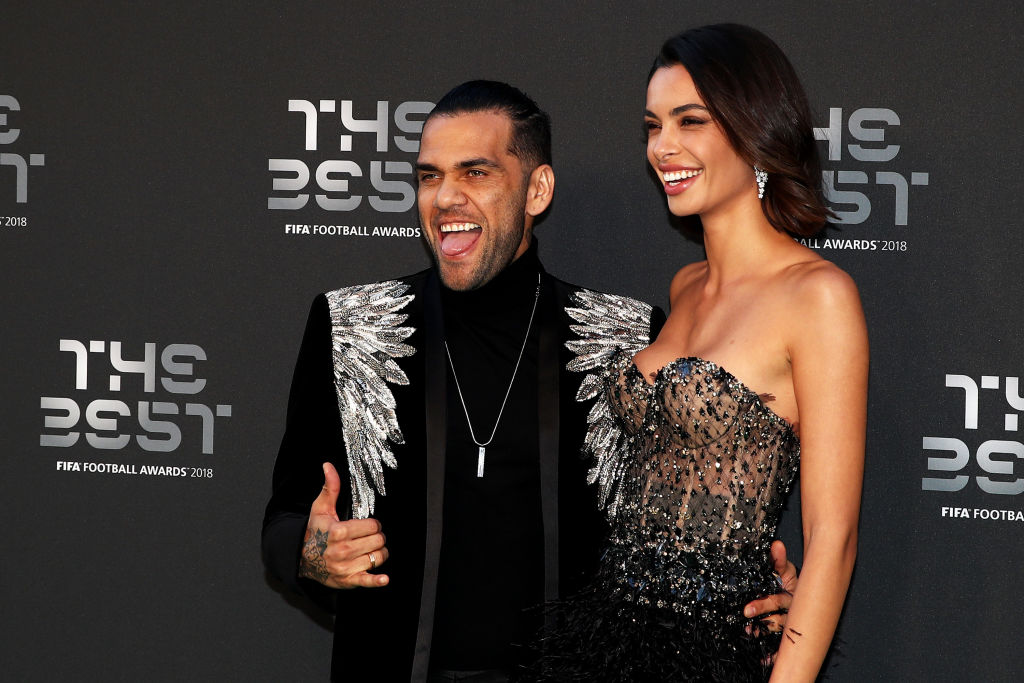 People under formal investigation can be held in prison without charge for up to four years in Spain, although the normal limit is two years.
Formal charges in Spain are only laid when an investigating magistrate rules there is sufficient evidence for a trial to take place and subsequently invites prosecutors to submit an indictment.
As well as two spells at Barcelona, Alves has played for Seville, Juventus, Paris Saint-Germain and Sao Paulo.
He is widely considered as one of the greatest full-backs of all time.
He has been a full international for Brazil since 2006 and is the nation's second most-capped player of all time.
Alves became the oldest Brazilian to play in a Fifa World Cup by playing in his nation's defeat against Cameroon in the final round of Group G games.
He said before the game: "It's normal people might question me because of my age or because I might not be at my best at this minute.
"It is something that bothers me but doesn't affect me. I am reaping what I have planted over the years."