A Sinn Féin U-turn on its pledge to remove the country from EU and Nato defence arrangements, a shooting in Cork, and NCT delays are among the stories on Saturday's front pages.
Sinn Féin has dropped its pledges to withdraw from the EU common defence arrangement known as Pesco and from Nato's Partnership for Peace (PfP) project, The Irish Times reports.
The Irish Examiner leads with a story on a shooting in Cork city.
The Irish Independent leads with a story on ongoing NCT delays.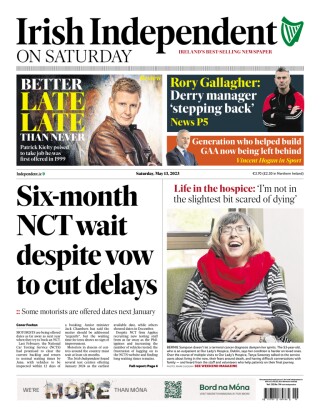 The shooting in Cork also makes the front page of The Echo.
Plans for a new look Late Late Show with Patrick Kielty make the front page of the Irish Sun.
Today's front page of The Irish Sun pic.twitter.com/qbih5lVE4j

— The Irish Sun (@IrishSunOnline) May 13, 2023
The Herald leads with Rory Gallagher stepping back from the Derry managerial position.
In the North, the Belfast Telegraph also leads with Gallagher's decision.
There is little consensus on the UK's main story of the day as Saturday's newspaper front pages feature an array of subjects.
A week on from the coronation, it continues to occupy front pages with a newly released picture of Britain's King Charles and his heirs – the Prince of Wales and Prince George – featuring in several editions.
Alongside the picture on its front page, The Daily Telegraph says India is planning a push to recover colonial treasures from Britain, including the Koh-i-Noor diamond.
📰 The front page of tomorrow's Daily Telegraph:

'India to demand return of colonial treasures'#TomorrowsPapersToday

Sign up for the Front Page newsletter 👇https://t.co/x8AV4Oomry pic.twitter.com/rTtduMDJAY

— The Telegraph (@Telegraph) May 12, 2023
The Daily Mail also gives much of its front page to the royal picture as it focuses on its campaign to bring back tax-free shopping for overseas visitors, saying it has won the backing of 200 firms.
Saturday's @DailyMailUK #MailFrontPages pic.twitter.com/kM7dfqoEDK

— Daily Mail U.K. (@DailyMailUK) May 12, 2023
And the Daily Express mixes the royal picture with a report on Nikki Allan's mother and her 31-year fight for justice as David Boyd is found guilty of the seven-year-old's murder.
Saturday's front page: Mum's Love For Nikki, 7, Gave Her Justice #TomorrowsPapersToday https://t.co/9ukfd4F086 pic.twitter.com/uPzRPQQRaj

— Daily Express (@Daily_Express) May 12, 2023
Politics and Eurovision jostle for attention on several front pages, The Independent's digital edition combining the two with UK prime minister Rishi Sunak saying Ukrainian leader Volodymyr Zelenskiy should be allowed to address tonight's final in Liverpool.
Saturday's Independent: Sunak: Let Ukraine leader speak to world at Eurovision final #TomorrowsPapersToday #Independent #IndependentDigital pic.twitter.com/IKSRhnmclK

— Tomorrows Papers Today (@TmorrowsPapers) May 12, 2023
Mr Sunak is the focus of the i weekend as he comes under fire from former UK home secretary Priti Patel for the "managed decline" of the Conservative Party.
i Weekend: "Sunak guilty of 'managed decline' of Tory party, warns Patel" #TomorrowsPapersToday pic.twitter.com/DxvmlIro9m

— Allie Hodgkins-Brown (@AllieHBNews) May 12, 2023
And the prime minister faces more criticism on the front of The Times as inventor and entrepreneur Sir James Dyson says government policies on science are deterring investment.
Saturday's TIMES: "PM's focus on science is hot air, says Dyson" #TomorrowsPapersToday pic.twitter.com/eFBX2h1JsZ

— Allie Hodgkins-Brown (@AllieHBNews) May 12, 2023
The Guardian focuses on Labour leader Sir Keir Starmer's assertion that the party will have to offer a radical vision "further and deeper" than Tony Blair's government to tackle the problems faced by the country.
Guardian front page, Saturday 13 May 2023: Expect Blair-style reforms 'on steroids', says Starmer pic.twitter.com/E30cWBmUEJ

— The Guardian (@guardian) May 12, 2023
The only agreement on front page lead comes in The Sun and the Daily Mirror, which both focus on the reported rift between This Morning stars Holly Willoughby and Phillip Schofield.
The Sun continues its coverage of the story by reporting on a "tense" phone call between the pair, while the Mirror suggests Schofield is fighting to keep his job.
On tomorrow's front page: Phillip Schofield confronted Holly Willoughby in tense phone call after their angry feud was exposedhttps://t.co/yLXvox5Ys7 pic.twitter.com/beGyTk4I6u

— The Sun (@TheSun) May 12, 2023
Saturday's front page: Phil fights for job #TomorrowsPapersToday https://t.co/37kj6NDA4V pic.twitter.com/4c1ncEG6Lb

— The Mirror (@DailyMirror) May 12, 2023
A growing dispute between the US and South Africa over relations with Russia features in the Financial Times.
Just published: front page of FT Weekend UK edition Saturday May 13 https://t.co/VWOlxB9e2G pic.twitter.com/5p0fBw39JM

— Financial Times (@FinancialTimes) May 12, 2023
And the Daily Star focuses on the Pope's call for Italians to have more children.
Well if he says it 🤷 #tomorrowspapertodayhttps://t.co/xjAdrRH05H pic.twitter.com/HkkLv6QC3W

— Daily Star (@dailystar) May 12, 2023
The international edition of The New York Times leads with a story on property tax issues in Chinese cities.
Saturday's International NEW YORK Times: "With cities short of cash, China resists property tax" #TomorrowsPapersToday pic.twitter.com/MDdhVG7miw

— Allie Hodgkins-Brown (@AllieHBNews) May 12, 2023