By Gráinne Ní Aodha and Cillian Sherlock, PA
The Government will "move heaven and earth" to assist older renters facing eviction, according to Minister for Finance Michael McGrath.
His comments follow the publication of research which indicates one-quarter of older tenants expect to remain in the private rental sector for life.
Those respondents to the research said they simply felt there were no other options available to them unless an opportunity to access a social housing or other housing presented itself.
A joint report by housing charity Threshold together with Alone – the charity supporting older people – looked at a mix of existing data, interviews with 31 older renters and qualitative interviews with 22 representatives of specialist organisations across statutory, voluntary, property-owner and academic backgrounds.
It found that 42 per cent of respondents felt high stress levels in the private rental sector associated with the insecurity of their accommodation.
Of those interviewed, 16 said they were in receipt of Housing Assistance Payment (HAP), and said while this was necessary to afford their accommodation, some experienced a shortfall when covering their rent.
A further 17 per cent of those interviewed said landlords were reluctant, and sometimes refused, to accept tenants on HAP.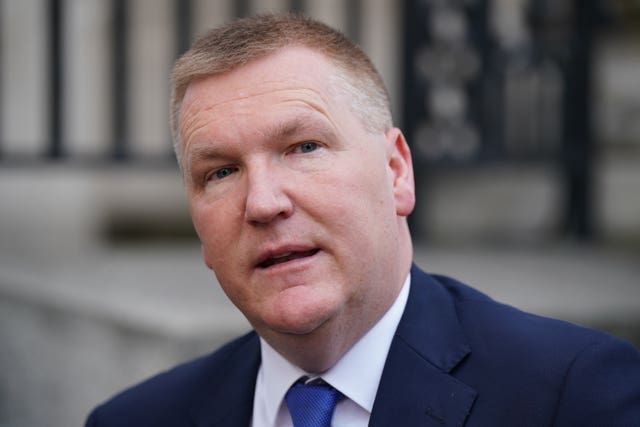 Labour leader Ivana Bacik raised the report during Leaders' Questions which was being taken by Mr McGrath.
She said: "Our entire housing and pension system has for far too long has relied on the assumption that people over 65 will have paid off their mortgages and will own their own homes and not be renting"
Ms Bacik said the pension system was not fit for purpose for people facing renting into the future and added that the housing system does not support the most vulnerable.
"This is the ticking time bomb of the housing crisis."
Mr McGrath said Government was treating the issue seriously and the Minister for Housing Darragh O'Brien would consider the report's findings.
"It is a reminder of a number of fundamental truths. We have an ageing population. The number of people aged 65 and older is going to double over the coming decade or so."
He said in the coming decades there will be only two of people of working age for every pensioner, which will have implications for healthcare and home care.
Mr McGrath said Government was planning for the future and also delivering age-friendly housing and public housing.
Ms Bacik said the prospect of getting evicted was a "huge difficulty" for older renters.
Mr McGrath replied: "I just want to give an assurance that particularly when it comes to older people who are served with an eviction notice, we will move heaven and earth to help them and to find the solution."
The report, entitled The Double Deficit: Older And Ageing Persons In The Irish Private Rental Sector, was based on interviews with representative older tenants in the private rental sector and an analysis of data from the Residential Tenancies Board (RTB).
According to the RTB and Amarach research, 17 per cent of all renters in the private sector were aged over 45, making up 67,000 households, of which just under 16,000 are headed by individuals aged 60 or over.
At the time of interview, 14 of the 31 study participants (45 per cent) had either recently or previously received a termination of tenancy notice from their landlords in respect of their current or most recent accommodation, several of which had been invalid.
The report also found that insecure accommodation was aggravated by other concerns such as older age profiles, illness and health conditions, and low income.
A 55-year-old interviewee who is recovering from cancer told the study: "We didn't expect to be in this position. Housing is at the root of all my concerns – over and above my illness."
A woman, 72, told researchers: "Landlords are not interested in me, they won't accept HAP, they're not willing to take a chance on a pensioner. They have plenty of excuses, choose other people over you."
The absence of data and planning for older people's accommodation, as Ireland's elderly population is projected to grow in the coming years, was also raised in the report.
Minister for Housing Darragh O'Brien welcomed the joint research and said it would help inform policies, and target government actions.
"Housing for All, the government's national strategy, mandates local authorities to develop and submit housing action plans for each of their local authority areas," he said.
"These plans must include provision for age-friendly housing, both social and private, and ensures that housing provision appropriate to the needs of older people will be delivered, matching the scale and extent of housing demand.
"Housing for All is backed by more than four billion euro in funding ensuring we can meet and even exceed the objectives of the plan.
"As people enter the so called 'golden years' of their lives, we don't want them to suffer worry and stress if they are renting, we want them to have options. Rapidly increasing the supply of new homes, of all types, will provide those options."
The chief executive of Alone, Sean Moynihan, said the report highlights an issue that has been growing for years.
"This evidence now further shows the housing needs of older people and proves the effect of no security of tenure for older people in the rental sector.
"Older people in private rented accommodation have lower standards of living and have poorer health and wellbeing outcomes.
Approved Housing Bodies completed 176 age-friendly homes in 2022. This was 3 times larger than in 2021. According to figures published today by the Irish Council for Social Housing. Approved Housing Bodies completed 176 age-friendly homes in 2022. pic.twitter.com/xpVXmJR6sO

— alone_ireland (@ALONE_IRELAND) May 3, 2023
"We need to plan and build for this increasing amount of people, before it is too late, for whom renting is their only housing option.
"This report highlights the areas that we need to focus on now, including ring-fencing social housing in line with demand, specifically for older people to meet this need now and in the near future.
"The alternative is that the current system will lead to large levels homelessness and poor housing conditions in old age," he added.
Ann-Marie O'Reilly, national advocacy manager at Threshold, said 17 per cent of renters are from older demographics and that the findings of the report indicate "a poor outlook for older and ageing renters" across Ireland.
"It is critical that the recommendations provided in this report are taken into account and the private rental sector becomes a viable and sustainable option of housing for older renters in the coming years."
Co-author of the report Neil Haran of Nexus Europe said: "This study reveals considerable challenges associated with the state's reliance on the private rental sector to accommodate many of its citizens.
"It also reveals that older renters in private rental are placed at a disproportionate disadvantage in the market, contributing to high levels of stress, vulnerability and a lack of predictability.
"But of equal concern is the absence of a data-informed approach to planning for the accommodation of a rapidly growing ageing cohort.
"There is a clear need for safeguards to improve the position of older people in the private rental sector; for increased investment in social and age-friendly housing, with supports, as well as a distinct need to commit to gathering age-related, tenure-specific data to aid effective planning."