By Gráinne Ní Aodha, PA
Almost half of people believe Mary Lou McDonald's statement that she would not have allowed Jonathan Dowdall to be a councillor for the party if she knew he was involved in criminality, a poll has indicated.
According to the survey conducted by Red C Research on behalf of the Business Post, around 45 per cent of people said they believe the Sinn Féin leader, with some 37 per cent saying they did not believe her, while 19 per cent said that they did not know.
The Red C poll also found that people were split on whether they trusted a Sinn Féin justice minister to fight organised crime groups and subversive activity, with 43 per cent of people saying they would not trust the party and 41 per cent saying they would.
Sixteen per cent said they did not know.
Dowdall, who worked as an electrician and businessman, is serving a four-year prison sentence after he pleaded guilty to facilitating the murder of David Byrne at the Regency Hotel in February 2016.
He had been a Dublin City councillor for Sinn Féin from May 2014 until he quit the party in October 2015.
Dowdall was a key witness in the State's unsuccessful case against Gerry "The Monk" Hutch in the non-jury Special Criminal Court, during which some evidence sparked questions being asked of Sinn Féin.
Among the evidence heard was a taped conversation of Dowdall from 2016 that suggested Sinn Féin officials knew about a 2011 gun attack on the home of his uncle, which the government has said undermined Ms McDonald's claim that the party had no knowledge of Dowdall's involvement in criminality.
Ms McDonald and Sinn Féin have strenuously denied evidence heard during the trial, including that Mr Hutch had donated money to the party – calling the claims "false and deeply offensive".
The verdict, read out by Ms Justice Tara Burns, raised repeated concerns about Dowdall's "relationship with the truth", and suggested that he had offered to testify "out of his own self-interest".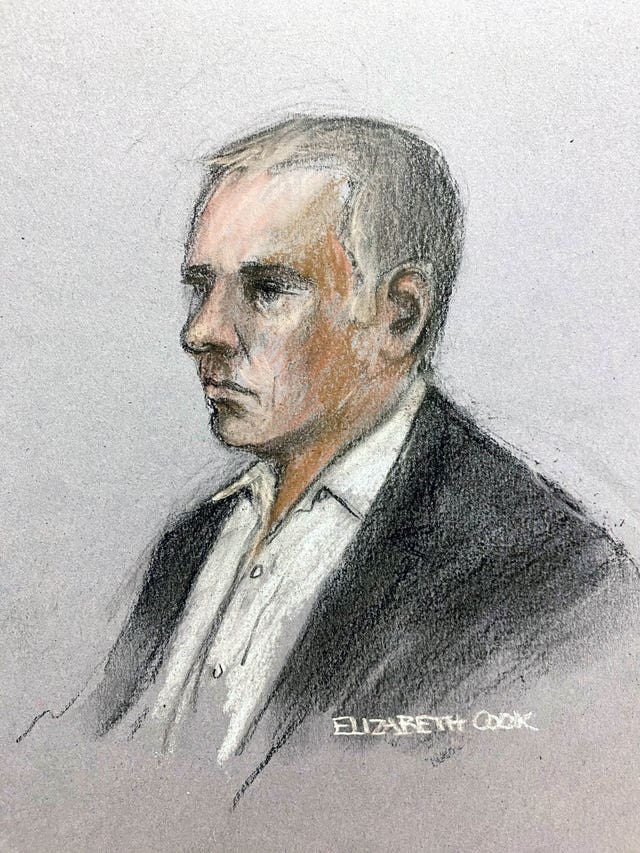 Ms Justice Burns said a video of Gardai interviewing Dowdall in May 2016 "make for very uncomfortable viewing" and that the manner in which he told "convincing" lies to gardai was "extremely concerning".
Ms Justice Burns also said Dowdall was "extremely reluctant" to fill in details around the Regency murder trial, including about his relationship with "an infamous and dangerous" IRA terrorist Pearse McAuley.
She said Dowdall had only accepted his friendship with McAuley after prison records showed 14 booked visits; Dowdall had initially said he visited McAuley on two or three occasions.
She said Dowdall had told a "barefaced lie" to hide the friendship with McAuley which he had "bizarrely" not envisaged being questioned about.
In the wake of the verdict, Sinn Féin issued a statement from Ms McDonald saying that Dowdall should never have been a member of the party.
"Had I known what he would become involved in, he would not have been a party member for one minute, never mind running for public office – I would not tolerate that," Ms McDonald said.
Dowdall was also given an eight-year sentence for false imprisonment and other charges relating to evidence on a USB key found during a search of his house as part of the Regency murder investigation.
Gardai found on the USB stick a recording of Dowdall and his father Patrick torturing an individual in the garage of their home in January 2015.
The man was tied to a chair with cable ties, waterboarded with a tea towel, had his head shaved and was threatened with being maimed or killed over the course of two hours.
Latest @businessposthq political polling figures suggest a very stable voter landscape so far this year. pic.twitter.com/GDUUjSSkYS

— RED C Research (@REDCResearch) April 30, 2023
The Sunday Business Post Red C Research poll also shows that support for Sinn Féin and Fine Gael remains unchanged compared with last month, at 31 per cent, and 22 per cent respectively.
Fianna Fáil is up by one point to 16 per cent, as is the Green Party, which is now on 4 per cent.
The Social Democrats are down by one point to 5 per cent, Labour is unchanged at 4 per cent, People Before Profit-Solidarity are down a percentage point to 2 per cent, and Aontu remains at 2 per cent.