By David Young and Cillian Sherlock, PA
A six-year-old Belfast boy awaiting a heart transplant ribbed Rishi Sunak about Ireland's rugby win over England as the British prime minister presented him with a special award to recognise his "outstanding" contribution to his community.
Dáithí Mac Gabhann and Mr Sunak also chatted about football when they met on Wednesday morning on the outskirts of Belfast.
A new organ donation law for Northern Ireland is named in honour of Dáithí in recognition of his and his family's campaign for law changes.
Mr Sunak presented Dáithí with a Points of Light awards to acknowledge the family's campaigning efforts.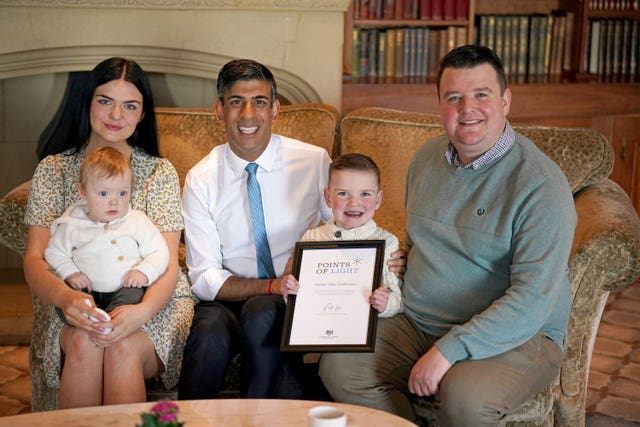 The meeting at the Culloden Hotel came ahead of Mr Sunak's political engagement with US president Joe Biden in Belfast city centre.
Mr Sunak told Dáithí that only one person in the UK was given the award each day and that showed how special he is.
Number 10 said Mr Sunak wanted to thank the Mac Gabhanns for their "tireless campaigning" for Dáithí's Law, which implemented an opt-out organ donation system, bringing Northern Ireland in line with rules in Britain.
Dáithí was joined for the award presentation by his father Mairtin Mac Gabhann, mother Seph Ni Mheallain and younger brother Cairbre.
The family's campaigning efforts were a factor in prompting Northern Ireland Secretary Chris Heaton-Harris to bypass the collapsed Stormont institutions to pass legislation at Westminster that allowed Dáithí's Law to come into effect.
From June, all adults in the region will be considered potential organ donors unless they choose to opt out or are in an excluded group.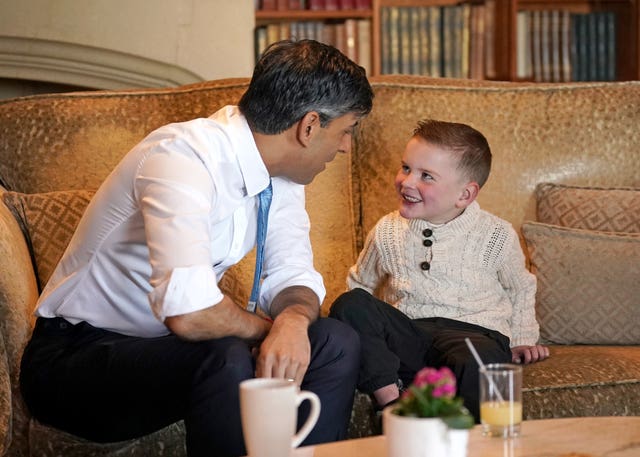 In a letter to Dáithí, who is awaiting a new heart, Mr Sunak said: "Every day I write a letter to thank someone for doing something remarkable for others. Today is very special, because I get to thank you.
"The bravery and determination you have shown in campaigning to change the law on organ donation in Northern Ireland is truly inspiring.
"With Dáithí's Law you are helping others in your situation to get the life-changing help they need. It is a huge achievement.
"In your father's words: 'Exceptional things happen for exceptional people'.
"I agree with him that you are truly exceptional, and so I am delighted to recognise your courage by naming you as the UK's 2,029th Point of Light.
"The whole country is with you as you continue your treatment."