Air Force One, carrying US president Joe Biden, has landed in Belfast.
The aircraft landed at the RAF Aldergrove airbase, which is adjoined to Belfast International Airport.
He was greeted off the aircraft by British prime minister Rishi Sunak.
Mr Biden and Mr Sunak left the runway in separate cars, with the US president departing with a large motorcade.
Britain's Northern Ireland secretary Chris Heaton-Harris was among the welcoming party, in addition to the personal representative of to Britain's King Charles for Co Antrim, Lord-Lieutenant David McCorkell.
The US president is due to speak at Ulster University and meet with politicians from the North before travelling to the Republic on Wednesday.
His four-day stay in the Republic will involve engagements across Louth, Dublin and Mayo, including meeting with President Michael D Higgins and giving an address before the Oireachtas.
His son Hunter Biden and sister Valerie Biden Owen are believed to be accompanying him for the trip.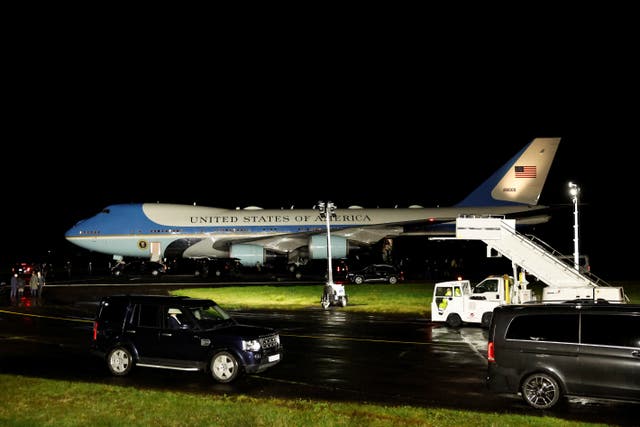 A major security operation will be in place for Mr Biden's visit, with more than 300 officers from Britain being drafted into Northern Ireland.
The PSNI has also warned of significant traffic disruption in Belfast during the presidential visit, with a number of roads in the city centre already closed.
After he leaves Belfast on Wednesday, Mr Biden will attend engagements in Co Louth.
The president has traced his ancestral roots to the area and he will tour Carlingford Castle in the county before spending the night in Dublin.
He is then expected to visit President Michael D Higgins on Thursday. Dublin's Phoenix Park will be closed for 24 hours from 5pm on Wednesday to facilitate the visit.
The White House said Mr Biden will take part in a tree-planting ceremony and ringing of the Peace Bell at Aras an Uachtarain.
Following that ceremony, he will meet again with Taoiseach Leo Varadkar and will address the Oireachtas and attend a banquet dinner at Dublin Castle on Thursday evening.
The president's trip will conclude with a visit to Co Mayo, where he has also connected with distant cousins, on Friday.
He will tour the Sanctuary of Our Lady of Knock and visit the North Mayo Heritage and Genealogical Centre's family history research unit.
He will then make a public speech at St Muredach's Cathedral in Ballina.
Earlier, a White House spokesperson said Mr Biden has been "very excited" about his visit to Ireland "for quiet some time".
The visit was planned to coincide with the 25th of the Good Friday Agreement. Ahead of his visit, Mr Biden said the top priority of his visit to Ireland is "to keep the peace".
Asked at Joint Base Andrews, Maryland, on his departure about his top priority for the trip, Mr Biden said: "Make sure the Irish accords and the Windsor agreement stay in place, to keep the peace. That's the - that's the main thing. And it looks like we're going to - keep your fingers crossed."
Mr Biden has often spoken of his Irish heritage, tracing his roots back to Louth and Mayo.