By Jonathan McCambridge, PA
Thousands of people are alive today because of the peace brought about by the Good Friday Agreement, former Sinn Fein president Gerry Adams has said.
Mr Adams also said that while he does not believe a united Ireland is inevitable, he regards the historic peace deal as a stepping stone towards it.
In an interview with the PA news agency to mark the 25th anniversary of the agreement, the one-time republican leader said a main catalyst for the deal was Sir Tony Blair coming to power, after the "Tories were dumped" by voters.
The Good Friday Agreement was signed on April 10th, 1998 after an extensive talks process involving many of the main political parties in Northern Ireland and the British and Irish Governments.
It largely led to the end of the Troubles which had lasted for 30 years and established a powersharing government between unionists and nationalists at Stormont.
Sinn Féin had become involved in the talks in 1997 after the IRA had renewed its ceasefire.
But Mr Adams said the party had been on the path towards a negotiated settlement for many years.
He said: "By the time we got into the talks in Castle Buildings we had a negotiating team, we had a certain degree of experience, a certain degree of skills.
"We had elected status, we had mandates by this time.
"The big unquantifiable was the unionist representatives. They wouldn't talk to us.
"The significant change which led to at least the possibility of progress was the Tories were dumped by the British voters and Tony Blair came in.
"We had already tried to find ways forward with John Major and with Tory governments which all failed miserably.
"But Blair came in with a resounding majority and he was prepared to look at other ways forward.
"In fairness he was given a peace process on a plate, but he took it.
"So you had a Sinn Féin leadership with Martin McGuinness as our chief negotiator, you had a new leadership in Britain and you had a new Taoiseach (Bertie Ahern) with a bit of advance work that had been done by his predecessor (Albert Reynolds).
"That is essentially what made the possibility of progress."
Mr Adams insisted that if there had not been a political process, the IRA still had the support to maintain its campaign of violence. He said claims that it no longer had the capacity were "total nonsense".
He said: "The support was still there and the capacity was still there.
"The fact is the Sinn Féin party by this time had a sizeable mandate and a thinking unionist should have been coming forward to respect that mandate and to try and figure out ways of going forward.
"They didn't do that, they refused to talk to us. The DUP withdrew, senior members of (then Ulster Unionist leader) David Trimble's team, Arlene Foster and Jeffrey Donaldson, walked out when it looked as if some progress was going to be made.
"Some of the more rounded unionist representatives, if you met them on their own, would have a bit of craic, would be courteous and well mannered, but some of them were just silly."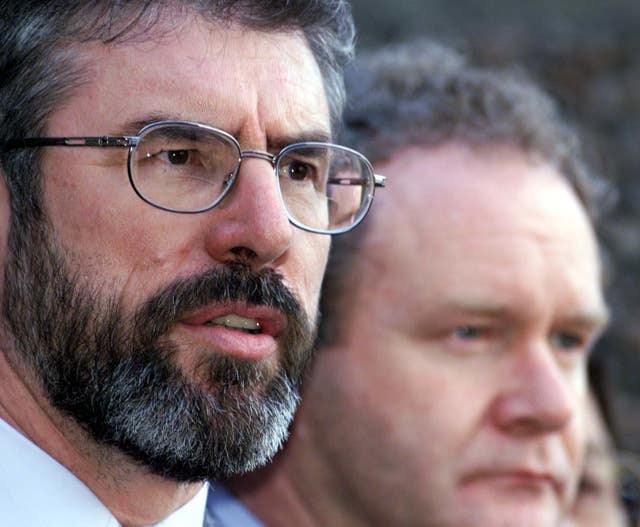 Mr Adams described the final days of intense negotiations leading up to Good Friday 1998 and said the role of talks chairman, senator George Mitchell was central.
He said: "There could be no return to the old Orange regime at Stormont.
"John Hume (former SDLP leader) had made it clear there could be no internal settlement, it had to be all-Ireland in its infrastructure and we were very focused on getting rid of the British Government's unconditional claim to sovereignty, and we succeeded in doing that.
"There were obviously big difficulties for unionists in coming to terms with the fact that this was for the first time all-party talks.
"By the time it came in to heading towards Easter, we were trying to put it to the two governments that there needed to be a deadline.
"In terms of the big ticket items we had set ourselves we were more or less satisfied we had achieved as much as our political strength at that time would have allowed us."
He added: "A day or two before Holy Thursday myself and Martin McGuinness were talking to George Mitchell and he said the problem for David Trimble is he had thought we were going to leave, and it was now starting to dawn on him that we weren't going to leave. So he now had to deal with this new reality.
"I actually think it's very hard to be a unionist negotiator. If you are reared on a diet of not an inch, no surrender, how do you negotiate from that sort of basis?
"But this was the chance of a lifetime and we had worked towards this for ages.
"From our point of view the alternative to republican violence was to have a mechanism which people could utilise in a peaceful and democratic way, that gave us huge strength to argue with physical force republicans that they should cease, and that's what happened in the end.
"The IRA leadership grasped the nettle, very courageously in my opinion, and invested heavily in the peace process and eventually went away."
Asked if he believed the deal signed in 1998 was a stepping stone towards Irish unity, Mr Adams said: "Oh, absolutely."
He added: "The pathway which opened up, it was like a new phase of the struggle.
"The agreement wasn't a settlement, the agreement was a commitment or an accord or a willingness to take a new journey, or a roadmap without the destination being agreed.
"We had all agreed to take this new course. People could either at some point agree for Irish unity or could agree to keep the union and that was better than what was there before."
The former Sinn Féin leader said the Good Friday Agreement had transformed lives and society.
Mr Adams said: "In terms of how it has worked out since, the first acid test is thousands of people are alive, who may otherwise be dead at this point.
"There are half a million people born since the Good Friday Agreement. Unless they were personally affected, that's half a million people who have no recollection of the tragedy and the terror and the difficulties that everybody went through at that time."
He added: "Look at what's happening in Syria, look at what's happening in parts of Africa. Look at what's happening in the Palestinian territories, look at what's happening in Ukraine. That's not happening here."
Mr Adams said this is the first generation of republicans which have a mechanism through a referendum, which would allow them to determine their own constitutional future.
He said: "Bobby Sands, Mairead Farrell, they didn't have this type of a mechanism.
"Some people are campaigning for the right to referendums, the principle has been conceded here, we have it, it's a matter of when,
"We want to have when it has the most chance of succeeding."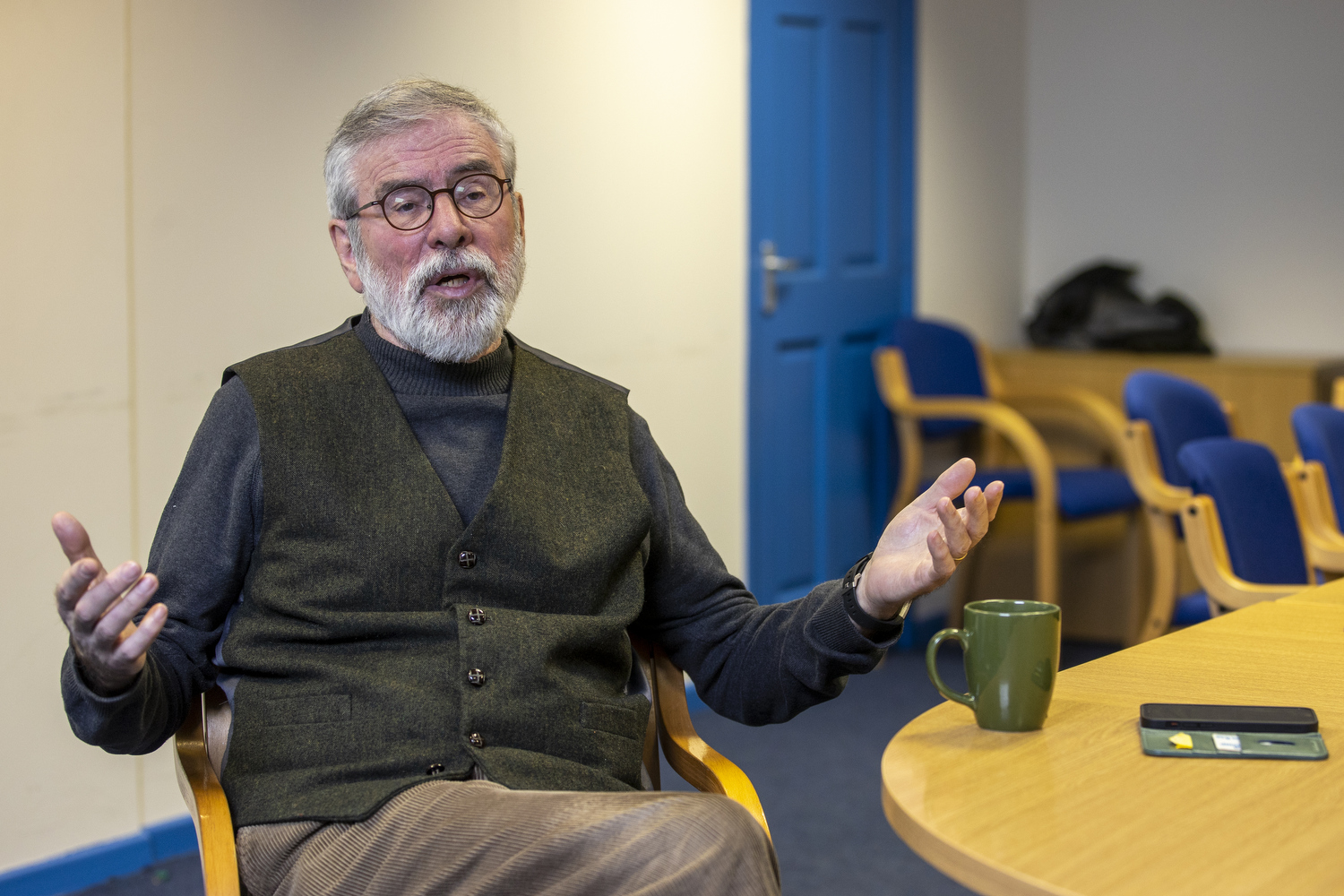 Mr Adams said he wanted to see conversations begin about the process of Irish unity.
He added: "We certainly want to see a referendum but we want to see it preceded by a thoughtful inclusive process of information of debate.
"We don't want to see a repeat of Brexit.
"When it comes to the referendum, people will know what they're voting for.
"It just doesn't make sense on a small island like this for the two parts to be facing away from each other.
"I think that it's important to recognise that it's not inevitable (Irish unity), but those of us who want it can be involved in a phase of gentle persuasion."