By PA Reporter
The Women of Honour report dominates the front pages on Wednesday as it found almost 90 per cent of female respondents said they had experienced some form of sexual harassment.
The Irish Times and Irish Examiner report on how at best the Defence Forces tolerated woman and abused woman in its ranks at is worst.
The Echo lead on a piece about the Land Development Agency identifying 14 sites in Cork city with the potential to deliver up to 16,080 homes.
Today's front page pic.twitter.com/WYlJQbjR2y

— Independent.ie (@Independent_ie) March 29, 2023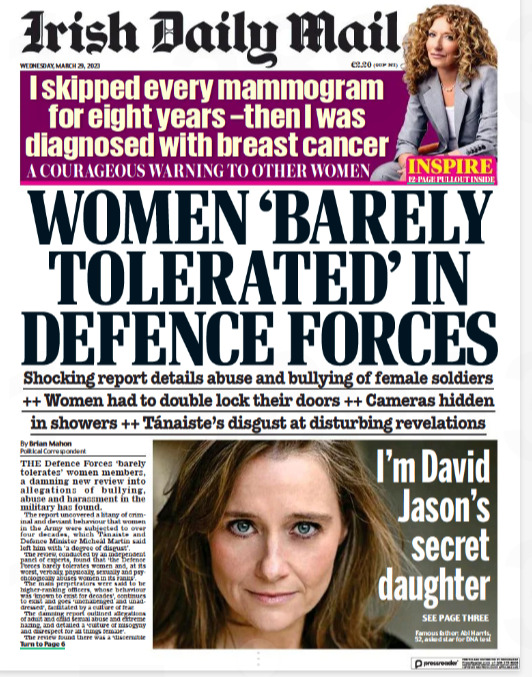 The front page of today's Irish Sun. pic.twitter.com/GyfacToIzv

— The Irish Sun (@IrishSunOnline) March 29, 2023
Morning readers. Stay with @BelTel for all your breaking news. Here's a look at the front page of the Belfast Telegraph this morning. 🗞️
To read the full newspaper on your device, go Premium +➡️https://t.co/1JEC5mNi73 pic.twitter.com/D4QC2JjHpS

— Belfast Telegraph (@BelTel) March 29, 2023
The front pages of Wednesday's newspapers in the UK report on all things NHS, a war hero at risk of being deported and Gary Lineker's win against HMRC.
Metro leads with a review into the NHS which has revealed staff were subject to bullying by bosses who ran the University Hospitals Birmingham NHS trust "like the mafia".
Tomorrow's Paper Today 📰

CALLOUS NHS TRUST 'RUN LIKE MAFIA'

🔴 Review reveals toxic culture at hospital where doctor took own life#TomorrowsPapersToday pic.twitter.com/f1K4ZMjf1e

— Metro (@MetroUK) March 28, 2023
The Guardian issued an apology for the role the paper's founder played in transatlantic slavery, announcing an investment into a 10-year programme of restorative justice.
Guardian front page, Wednesday 29 March 2023: Guardian owner apologises for founders' links to slavery pic.twitter.com/BsUvj1VC71

— The Guardian (@guardian) March 28, 2023
The Independent leads with its campaign against deporting an "Afghan war hero" to Rwanda with Prime Minister Rishi Sunak ordering the Home Office to look into the case.
Wednesday's Independent: Deport a war hero? 'This is not who we are as a nation' #tomorrowspaperstoday pic.twitter.com/W765sftTpS

— Helena Wilkinson (@BBCHelena) March 28, 2023
The Financial Times reports on Chancellor Jeremy Hunt injecting more money into the NHS to fund a new pay deal while a teachers' union found the Government's latest offer "insulting" as their dispute intensifies.
Wednesday's Financial Times: Hunt to provide fresh cash for NHS pay deal but teachers' row intensifies #tomorrowspaperstoday pic.twitter.com/ZJBLE0Oo79

— Helena Wilkinson (@BBCHelena) March 28, 2023
The ban on new petrol and diesel cars being manufactured in 2030 was "thrown into chaos" with EU politicians and experts in Brussels easing their own restrictions after German carmakers opposed the change, The Telegraph reports.
The front page of tomorrow's Daily Telegraph:

'Petrol car ban in chaos after EU climbdown'#TomorrowsPapersToday

Sign up for the Front Page newsletterhttps://t.co/x8AV4OoUh6 pic.twitter.com/L3O1w0k4NE

— The Telegraph (@Telegraph) March 28, 2023
The i carries Gary Lineker's appeal against HMRC with a judge ruling he did not avoid paying tax with the BBC presenter believing he paid more than required and facing expensive legal fees.
Wednesday's i: Lineker 1 Taxman 0 #tomorrowspaperstoday pic.twitter.com/Js3D3Zp5yc

— Helena Wilkinson (@BBCHelena) March 28, 2023
The Daily Mail reports migrants coming into Britain through the Channel will be housed in ex-military bases, shops and barges rather than hotels which is costing taxpayers £6 million a day.
Wednesday's @DailyMailUK #MailFrontPages pic.twitter.com/KWtER5F0d9

— Daily Mail U.K. (@DailyMailUK) March 28, 2023
The Daily Express leads with a report that shows the loss of faith in the NHS due to long wait times and staff shortages.
Wednesday's front page: Joy, 82, murdered for her pension moneyhttps://t.co/Ea7etdWpxm#TomorrowsPapersToday pic.twitter.com/2Q607iwizq

— Daily Express (@Daily_Express) March 28, 2023
The Daily Star says the Institute of Physics has urged the paper not to refer to scientists as "boffins".
Wednesday Daily Star: Boffins: Don't call us boffins #tomorrowspaperstoday pic.twitter.com/L8yMmhniDa

— Helena Wilkinson (@BBCHelena) March 28, 2023
And the Daily Mirror leads with actor Sir David Jason's wife describing how she welcomed the star's new-found daughter into their family.
Wednesday's Daily Mirror: It's lovely to embrace David's daughter into our family #tomorrowspaperstoday pic.twitter.com/Wq6lWQPJYd

— Helena Wilkinson (@BBCHelena) March 28, 2023