Dominic McGrath, PA
The new Brexit deal for Northern Ireland will be formally signed off on Friday at an official meeting in London, amid hopes that better EU-UK relations can see benefits in other areas.
British foreign secretary James Cleverly and the European Commission's Maros Sefcovic will together chair a meeting that will see the UK and the EU formally adopt the new arrangements for Northern Ireland, after the British government won the backing of MPs for the Windsor Framework earlier this week.
The vote by MPs in favour of regulations to implement the Stormont brake, a key part of the Windsor agreement, came despite former British prime ministers Boris Johnson and Liz Truss joining the DUP and hardline Brexit-backing Tory MPs in voting against the deal.
The formal sign-off comes as the DUP continues to oppose the deal, with no sign of them yet being willing to return to power-sharing institutions in the North.
Britain's Northern Ireland secretary Chris Heaton-Harris warned the DUP that there was no prospect of renegotiating the deal ahead of Friday's meeting, which comes after Brussels also formally agreed to the key parts of the Windsor Framework at a Council of the EU meeting.
The formal sign-off will come at a Withdrawal Agreement Joint Committee meeting, with the foreign secretary and Mr Sefcovic also set to attend a meeting of the partnership council – another of the implementation bodies under the Brexit deal.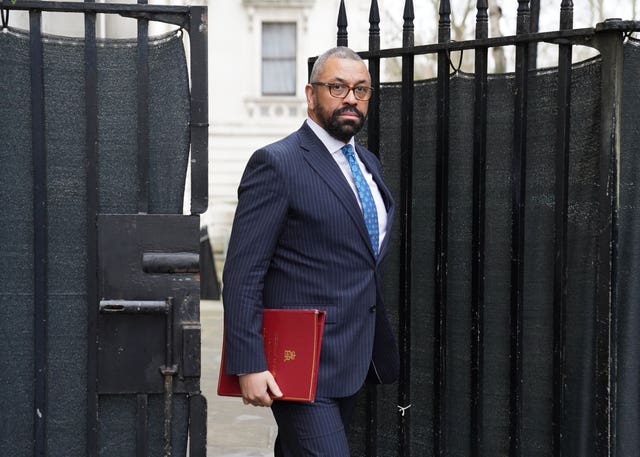 "By formally approving the Windsor Framework, we are delivering on our commitment to provide stability and certainty for Northern Ireland," Mr Cleverly said.
"The framework is the best deal for Northern Ireland, safeguarding its place in the Union and protecting the Belfast (Good Friday) Agreement.
"I look forward to further effective co-operation with the EU on key issues, such as security and energy."
The UK hopes the new deal on the protocol can mark a step towards British participation in the EU's €100 billion Horizon programme, with science and research likely to feature in official discussions between the pair.
Mr Cleverly and Mr Sefcovic will also discuss a recent agreement between the UK, Ireland and the EU on Peace Plus, the cross-Border peace funding programme.
The continuing stand-off over Stormont suggests the prospects for a return to powersharing at Stormont in time for the 25th anniversary of the Good Friday Agreement next month remain bleak.
The executive and the Assembly have been suspended since the DUP walked out last year in protest at the way the Northern Ireland Protocol, negotiated by Mr Johnson, was operating.