James Cox
There has been a significant increase in hate crime incidents in Ireland.
The number of incidents jumped by almost a third last year according to new figures from the gardaí.
A totalof 582 hate related incidents were reported to gardaí in 2022 compared to 448 in 2021.
Some of the incidents include a young black woman being forcibly shouldered out of the way by a man. In another a male teenager was subjected to homophobic comments and a minor assault by three teenagers.
In another case currently before the courts, an Eastern European woman in her 50s was allegedly approached by a man in his 30s and was racially abused before being punched twice in the face and kicked on the ground.
The largest number of hate related incidents were recorded in Dublin.
Of the discriminatory motives recorded, a third involved race, 22 per cent involved sexual orientation and 21 per cent were based on nationality.
During 2022 An Garda Síochána implemented a Hate Crime ELearning Programme developed in conjunction with NGOs. This programme has been completed by 83.2 per cent of all garda members.
Hate motives were evident in a range of incidents in 2022, the largest percentage being public order (30 per cent), minor assaults (20%), assault causing harm (9 per cent) and criminal damage (8 per cent).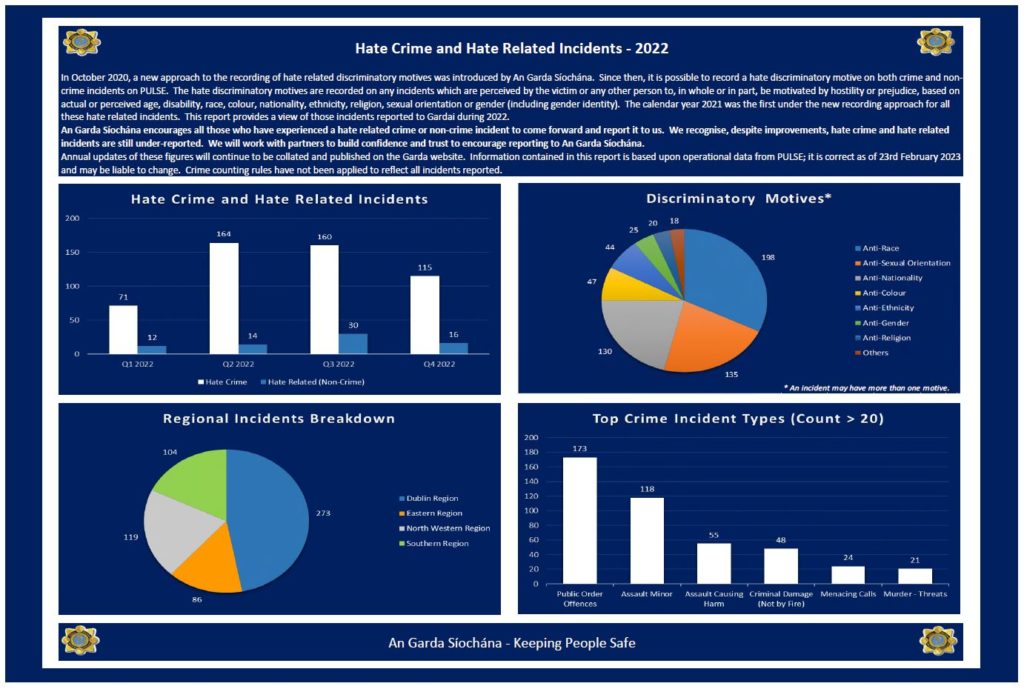 Assistant Commissioner Paula Hilman, whose remit includes the Garda National Diversity and Integration Unit, welcomed the publication of the 2022 statistics.
"An Garda Síochána continues to have a strong focus on investigating crimes with a hate motive and supporting the victims of these crimes. An Garda Síochána recognises that hate crimes have a huge impact on victims, specifically because they are targeted because of a characteristic of who they are. These crimes also have a significant impact on wider communities and society."
Assistant Commissioner Hilman added: "These statistics of incidents reported to An Garda Síochána in 2022 with a hate motive build on the baseline figures published for 2021. The level of reporting has increased overall. While it is disappointing that any incidents occur which have a hate related motive, it is positive to see more victims coming forward to An Garda Síochána and reporting their experiences."
Commissioner with the Irish Human Rights and Equality Commission, Professor Caroline Fennell, has said that it is "not a surprise" to persons working in the field that there has been a sharp increase in reporting of racist incidents and crimes to the Irish Network Against Racism (INAR) through their website.
In its annual report for 2022, INAR indicated there were more than 600 reported incidents of racism, including violent assaults last year. This figure was up from 400 in 2021.
Yesterday, the Government published its first National Action Plan against racism in fifteen years which called for greater access to justice for those impacted by racism.
Professor Caroline Fennell said that there is clear evidence that there is a problem with racism and racist incidents in Ireland.
"It is an international phenomenon. Unfortunately we are no exception to that. I think one of the issues is the visibility to some extent of racism because many people don't necessarily see it in their own lives. So they are unaware of it.
"And it is a very valuable service that is provided by INAR to provide some visibility and mechanism in terms of a reporting of racist incidents.
"I suppose part of the action plans initiatives and ambition is to actually build on that particular wealth of information and to ensure that it is easier for people generally to report incidents. So we have recommendations with regard to facilitating online reporting and also third party reporting on behalf of those experiencing racism."
Professor Fennell said that it is "terribly important" that these incidents find their way where appropriate in to the criminal justice system so that people who experience racism are heard and receive appropriate retribution.
Professor Fennell, who is a professor emerita of Law at UCC, said that there is quite a robust mechanism provided within the plan itself in terms of the appointment of an anti racism rapporteur.
"That person will be appointed by the Minister and will also have the support of a steering committee and a co ordinating committee.
A very important aspect of the monitoring is that there will be an annual report by the rapporteur which will be presented to the Minister and will also be made available to the Oireachtas Committee and in that way there will be oversight and visibility of the progress that is being made in relation to the actions in the action plan which are in themselves quite ambitious." - Additional reporting from Olivia Kelleher