Thursday's national papers cover investigations into the death of Annie McCarrick, meetings over food prices, and reaction to Ireland crashing out of the Eurovision semi-final.
The Irish Times reads: 'Two men being investigated as suspects in McCarick murder'.
The Irish Examiner labels a meeting between junior minister Neale Richmond and retailers over food prices 'a damp squib', and also covers the ongoing debate surrounding GAAGO.
The Echo, meanwhile, reports the FAI has halted plans for an €11 million centre in Glanmire, while families face 'Communion cost woe'.
The Irish Independent covers calls for 'profiteering' supermarkets to be 'named and shamed', while the Irish Daily Star reports on price cuts for bread announced by two supermarket chains.
Here's the front page of Thursday's Irish Independent pic.twitter.com/8vKJY6PWfw

— Independent.ie (@Independent_ie) May 11, 2023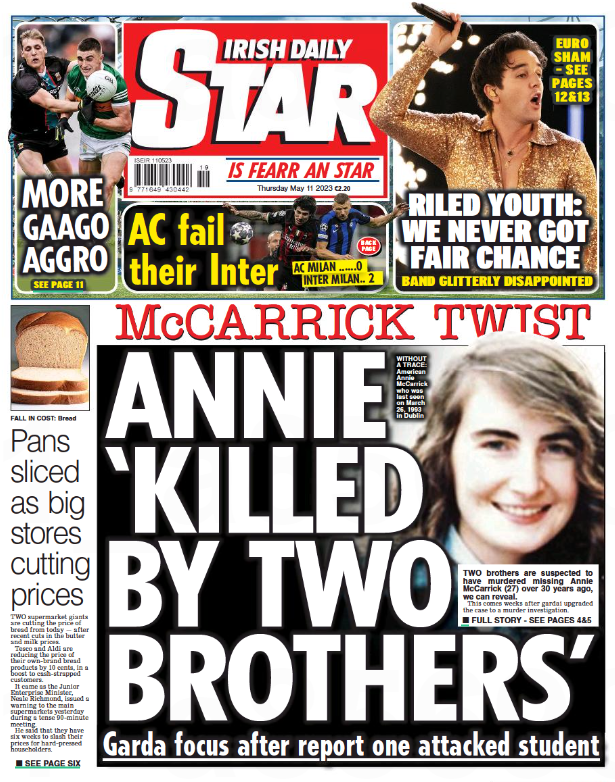 The Irish Daily Mirror covers Wild Youth's reaction after they failed to claim a place in the Eurovision Song Contest final, and finally, the Irish Daily Mail reads: 'Six weeks to lower prices for shoppers'.
In Britain, the Archbishop of Canterbury takes centre stage on the front of Thursday's newspapers after his comments on the UK's Illegal Migration Bill.
Days after his leading role in the coronation of Britain's King Charles III, the Most Rev Justin Welby spoke out against the bill in the UK's House of Lords with differing takes on his intervention.
The Guardian labels the archbishop's words as a "stinging attack" on the bill which he called "morally unacceptable".
Guardian front page, Thursday 11 May 2023 - 'Morally unacceptable': Welby in stinging attack on migration bill pic.twitter.com/lqjCiqmb1a

— The Guardian (@guardian) May 10, 2023
"Arch enemies" is the take of the Metro which says the archbishop was in a "face-off" with British prime minister Rishi Sunak.
Tomorrow's Paper Today 📰

ARCH ENEMIES

🔴 Church leader calls Rwanda migration bill 'morally unacceptable' in face-off with PM #TomorrowsPapersToday pic.twitter.com/dTcHJoKMe8

— Metro (@MetroUK) May 10, 2023
The archbishop's intervention is not met with universal acclaim with the Daily Express labelling his "attack" on the legislation as "wrong".
Front page: Your attack on small boats law is 'wrong', Archbishop #tomorrowspapertoday https://t.co/4aTrWNAtj6 pic.twitter.com/fLykL6ynox

— Daily Express (@Daily_Express) May 10, 2023
And the Daily Mail asks "What's so moral about not stopping people smugglers?"
MAIL: What's so moral about not stopping people smugglers? #TomorrowsPapersToday pic.twitter.com/UbkIocSxHm

— Neil Henderson (@hendopolis) May 10, 2023
Migration also features on the front of the Financial Times, but instead focuses on plans to prevent family members from joining overseas students in the UK.
Just published: front page of the Financial Times, UK edition, Thursday 11 May https://t.co/w6gEObIrad pic.twitter.com/P4rh26P0a0

— Financial Times (@FinancialTimes) May 10, 2023
The Times features a picture of the archbishop during his speech, but leads on plans for doctors without the "highest level of training" to raise numbers at GP surgeries.
TIMES: NHS plans to send more doctors into GP surgeries #TomorrowsPapersToday pic.twitter.com/8OvIAWLEUZ

— Neil Henderson (@hendopolis) May 10, 2023
Health is also the focus of the Daily Mirror, which concentrates on the results of a report into how long Covid is hitting sufferers.
Thursday's front page: Hidden toll of long COVIDhttps://t.co/5ls3A9LIMw#TomorrowsPapersToday pic.twitter.com/R14O626gdu

— The Mirror (@DailyMirror) May 10, 2023
Brexit catches the eye of The Daily Telegraph as it reports on Britain's business secretary Kemi Badenoch saying the government is unable to scrap many European laws.
The front page of tomorrow's Daily Telegraph:

Whitehall 'blob' halts repeal of Brexit laws#TomorrowsPapersToday

Sign up for the Front Page newsletterhttps://t.co/x8AV4OoUh6 pic.twitter.com/LTnzUEZeIP

— The Telegraph (@Telegraph) May 10, 2023
The i says millions of people will face even more mortgage hikes as the Bank of England prepares for another rise in interest rates.
Thursday's front page: £7,000 mortgage hike after record interest rate rises#TomorrowsPapersToday

Latest by: @CallumCMason: https://t.co/4wUP4ik5Vo pic.twitter.com/mlxeCD69fR

— i newspaper (@theipaper) May 10, 2023
The digital edition of The Independent leads on the publisher of the Daily Mirror apologising to Britain's Prince Harry as a trial into phone-hacking claims begins.
INDEPENDENT DIGITAL: Mirror publisher apologises to Harry at hacking trial #TomorrowsPapersToday pic.twitter.com/llDIA4YjZB

— Neil Henderson (@hendopolis) May 10, 2023
The Sun concentrates on celebrity as it says This Morning hosts Holly Willoughby and Phillip Schofield barely speak off camera.
On tomorrow's front page: This Morning's Holly Willoughby and Philip Schofield barely speaking as insiders reveal she would do show without himhttps://t.co/RxYzJF22oM pic.twitter.com/Vu71ZahJ9p

— The Sun (@TheSun) May 10, 2023
And the Daily Star has the debate on whether "old man white vests" are a cool fashion item this year.
Thursday's front page is for the fashionistas 👀https://t.co/21LmkkCVjL#TomorrowsPapersToday pic.twitter.com/vt1xu2ovLn

— Daily Star (@dailystar) May 10, 2023