By Jonathan McCambridge, PA
Sinn Féin has accused the Government of "sitting on its hands" while families in Ireland struggle with the cost-of-living crisis.
However, Taoiseach Leo Varadkar told the Dáil the Government had been introducing measures every month to help people struggling with bills.
Sinn Féin will bring a motion to the Dail on Tuesday evening featuring a package of measures to cut food prices. Mr Varadkar indicated the Government would not oppose the motion.
During leaders' questions, Sinn Féin president Mary Lou McDonald said the cost-of-living crisis in Ireland was "out of control".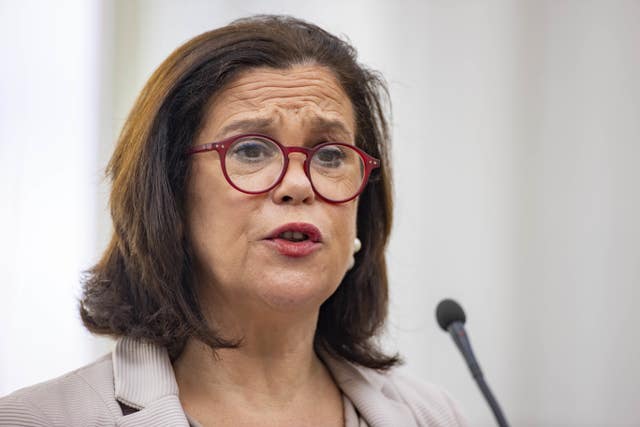 She added: "People's finances are pushed to the very brink.
"They are hammered by sky-high energy bills, soaring food bills, runaway rents, mortgage interest rate hikes and a cost-of-living crisis that is hitting them from all sides.
"Almost a quarter of household gas customers found themselves in arrears in the first three months of this year and, as energy credits run out, the number in electricity arrears is increasing again.
"That means 160,399 domestic customers in gas arrears and 199,790 domestic electricity arrears.
"It is an absolutely staggering situation."
Mrs McDonald said the Government had opposed her party's proposals to cap energy bills and provide mortgage and rent relief.
She said: "Your Government sits on its hands.
"Tonight Sinn Féin brings forward a plan for real action on food and grocery bills and I think the Government should back this plan.
"Inflation in Irish supermarkets is the highest ever recorded and shoppers are set to see their annual grocery bills rise by 1,200 euro."
She said her party's plan would ensure that savings made by supermarkets were passed to consumers, allow for the investigation of "possible price gouging" and permit an increase in social welfare and pension rates.
She added: "Will you back Sinn Féin's plan to cut food costs that will come before the House this evening and what else do you propose to do to help families weather the storm of this cost-of-living crisis?"
Mr Varadkar said that while inflation had begun to fall, this did not mean prices were falling at the same level.
Outlining measures taken by the Government, he said: "If you take pay, we had an increase in the national minimum wage this year which is above the rate of inflation for this year.
"We also have a public sector pay deal and there will be a further pay deal, I imagine, negotiated before the end of the year.
"The second element is people being able to keep more of what they earn.
"The rent tax credit is an example of that – nearly 200,000 people have claimed that credit, many more can, worth about €1,000 to a couple, €2,000 euro if you claim it over the two years."
He said the Government had also reduced income tax and the cost of childcare, as well as reducing the costs of public transport, school transport and medicine.
"There isn't a month when we aren't doing something to help people with the cost of living because we understand that families are suffering," the Taoiseach said.
He added that Neale Richmond, minister of state with responsibility for retail business, will meet the Retail Forum on Wednesday.
"He will be passing on a very clear message from Government. When input prices like energy costs went up retailers increased prices, that is understandable.
"But when input costs go down we expect you to pass on those reductions to your customers and we are making that very clear to the retailers, to the big supermarkets, to the shops and also to the energy and gas companies."
Mrs McDonald responded: "When I ask you what you will do in the here and now, you answer me as though matters had been solved and resolved.
"We are bringing forward a package of measures this evening in respect of groceries and food costs. Will you support that?"
Mr Varadkar said: "We are not going to oppose the motion you have put down this week.
"We don't agree with all of it, but we think there are some things that are in it that we are doing already and can be done, and there are other suggestions that are worthy of consideration."