By Cillian Sherlock, PA
Taoiseach Leo Varadkar has said Northern Ireland cannot move forward without a functioning Assembly and Executive.
Mr Varadkar said if an Executive is formed, Ireland is ready to use its Shared Island Fund to assist Northern Ireland with issues like housing, the health service, enterprise, the cost of living and budget deficit.
"Local leadership by those chosen by the people of Northern Ireland is required to respond to these challenges," he said.
The institutions collapsed when the Democratic Unionist Party exercised a veto and brought down devolution in protest at post-Brexit trading arrangements for Northern Ireland.
Mr Varadkar said he hoped all parties would "step up".
Mr Varadkar also said the Windsor Framework, which is a revised deal for Northern Ireland's post-Brexit trading arrangements, provides a new opportunity for British-Irish partnership.
During a Dáil session for statements on the 25th Anniversary of the Good Friday Agreement, Mr Varadkar said the occasion is a "timely reminder" of the UK and Irish governments' roles as shared guarantors of the agreement.
He added: "The agreement is fundamentally about both governments working in partnership.
"I look forward to continuing that work with the Prime Minister and advancing our shared priorities together.
"The agreement is built on delicate balances and we must ensure these continue to be respected in the months and years ahead."
Mr Varadkar said there was a need for a functioning North-South Ministerial Council as well as a functioning Assembly and Executive.
"As John Bruton said, if a political vacuum is not filled by elected politicians, it leaves space for those with an undemocratic and violent agenda.
"We all have a responsibility to make sure this does not happen," he said.
On the topic of reform of Northern Ireland's institutions, the Taoiseach said this was provided for in the Agreement but a conversation on reform would be "best placed to succeed" when the institutions were back up and running.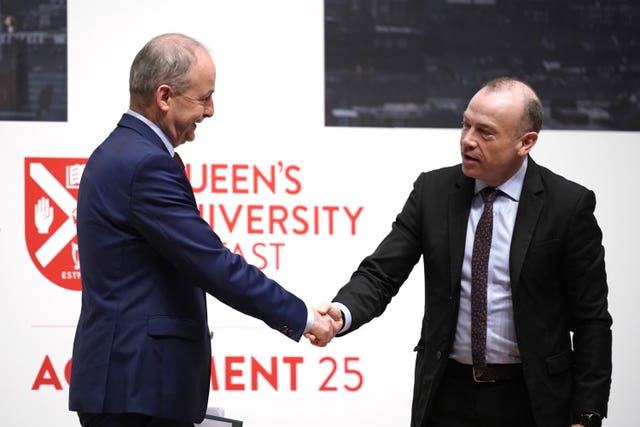 In the same session, Tánaiste Micheál Martin said there is "much more work to do" renew the spirit of the agreement.
"The spirit of partisanship and the ongoing cycle of collapse and restoration caused by different parties has often undermined public faith and it has blocked urgently needed work on social and economic issues," he said.
Mr Martin said the principle of consent is the "core DNA" of the agreement.
"Peace is not inevitable, it requires hard work, it also requires ongoing commitment
"The current absence of a functioning Assembly and Executive is having a very real impact on the people of Northern Ireland."
He called on Northern Irish parties to respect the results of elections last year and take their seats.
Mr Martin said blocking the function of the institutions was "wrong".
He said reform is "clearly necessary" once the institutions are restored.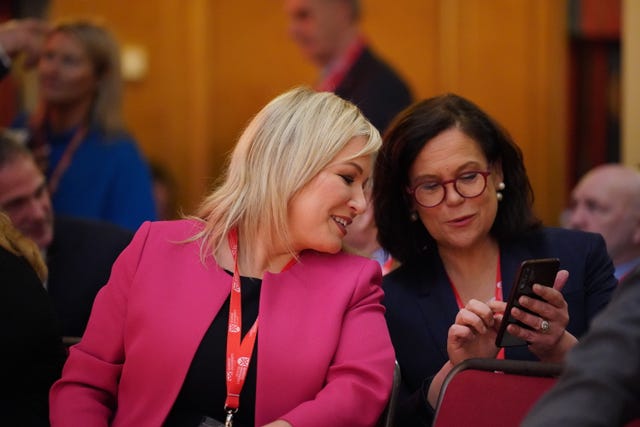 Sinn Féin leader Mary Lou McDonald said there is a need for a renewed commitment for all political leaders to share power together.
"We need to restore the agreement's political institutions in the North."
Ms McDonald called for increased interest from the UK and Irish governments, which she said had slipped in recent years.
"Above all, we need a decision from the DUP.
"The DUP is now at a crossroads and a moment of decision and I hope the decision they make is the right one.
"Because it is unconscionable that we stay in this limbo and things continue to drift.
"So my message to the DUP is clear: Join with Sinn Féin and other parties to restore the political institutions and together we can make politics work for everyone."
Ms McDonald said there was also a need for a conversation about what "orderly, peaceful, democratic, constitutional change looks like".
She said the Government must establish a Citizens' Assembly on Irish reunification.
"We need to give people the chance to engage, to come and say their piece, and I include in that our citizens who are Unionists.
"For those who are British in a partitioned Ireland and who will be British in a united Ireland to have their say, to have an equal stake is the most incredible opportunity for our island.
"This is a time for respect and reconciliation."
Mr Martin criticised the UK government's legacy bill as a "unilateral and unacceptable departure from the collective approach we have agreed to".
The Troubles (Legacy and Reconciliation) Bill would provide amnesty for those who committed crimes during the Troubles if they co-operated with a new truth-recovery body.
This would also prevent future court action, including inquests, in these cases.
Mr Martin said it would set back the essential work of reconciliation.
"When parties are capable of showing a real concern for the victims of those they honour, then and only then will we have made a real breakthrough towards reconciliation," he said.
Sinn Féin TD Padraig Mac Lochlainn said the legacy bill represents a clear breach of UK governments commitments to international treaties and represents a "blatant disregard for victims".