By Gráinne Ní Aodha, PA
Sinn Féin took aim at the DUP and the Government's ending of the eviction ban during an event held to mark the anniversary of the 1916 Easter Rising.
Speaking at a republican plot at Milltown Cemetery in Belfast, MP John Finucane noted the 25th anniversary for the Good Friday Agreement, which he said was "an historic, international success story" and "should never ever be taken for granted".
He accused the DUP of using the protocol as an excuse to boycott an Executive that would see Sinn Féin take up the role of First Minister of Northern Ireland for the first time, as per the results of the 2022 Assembly election.
He said that health workers could not wait any longer for pay rises, and people who rely on voluntary organisations "don't have the luxury to wait while the DUP naval gazes".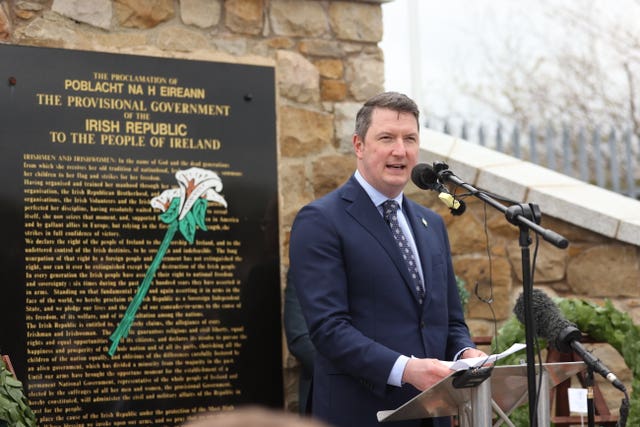 He also said that the visit by US president Joe Biden was "a golden opportunity" to strengthen Northern Ireland's economy and to create jobs.
Sinn Féin president Mary Lou McDonald and vice-president Michelle O'Neill attended the Government's official 1916 Rising ceremony at the GPO in Dublin.
Mr Finucane said during his speech: "I want to salute the republican activists of Belfast who continue to assert the demand for Irish freedom, and I also want to acknowledge the pain and trauma that many families from all backgrounds carry as a result of tragic loss during the conflict by all armed groups.
"Today, we live in a different place. This Easter, we mark 25 years since the people of this island voted for the Good Friday Agreement. That peace accord brought to an end three decades of conflict, and it stands as an historic international success story in peacemaking.
"We must continue to work to protect our hard-won peace and our hard-won progress."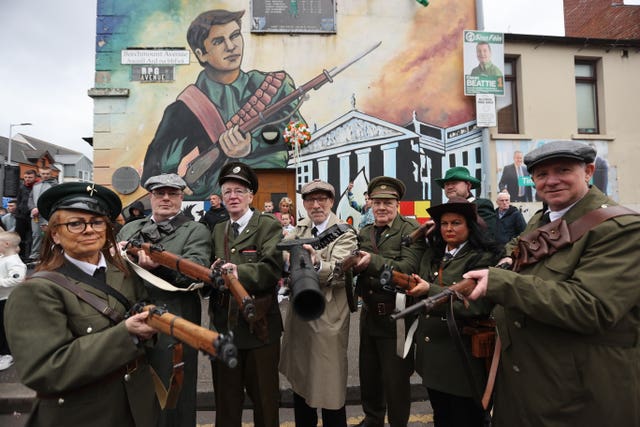 Mr Finucane said that the Windsor Framework offered a "huge competitive advantage" by giving Northern Ireland access to both British and EU markets.
He added: "We know that many within the DUP saw Brexit as an opportunity to harden the border and Ireland. They have failed.
"They must know recognise that they failed and get on with the business of representing those who elected them within the institutions of the Good Friday Agreement."
He also accused Fine Gael and Fianna Fáil of "coalescing" to keep Sinn Féin out of government, and said Ireland's housing crisis had gotten worse under their watch.
"Fine Gael and Fianna Fáil, supported by the Green Party, have taken the cruel and inhumane decision to make thousands of families homeless by ending the eviction ban."
"Sinn Fein is on the rise across Ireland," he said towards the end of his address.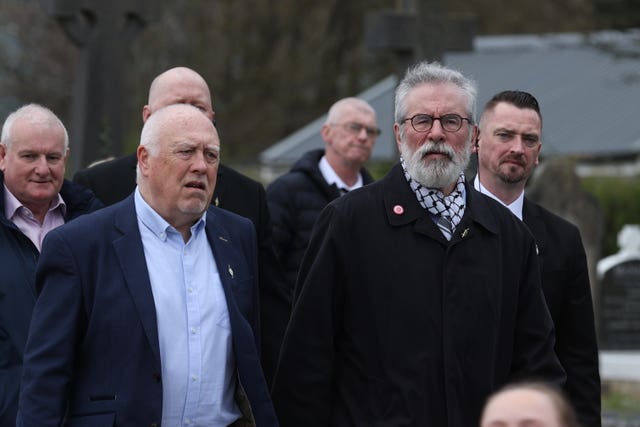 Meanwhile, the PSNI said that it was investigating a parade held in west Belfast on Easter Sunday.
Assistant Chief Constable Bobby Singleton said police had attended a series of notified parades across Northern Ireland as republican groups mark the 1916 Easter Rising.
"The vast majority of the parades were lawful and passed off without incident," Mr Singleton said.
"There was, however, a masked colour party at the head of the Irish Republican Socialist Party parade on the Falls Road in Belfast.
"Police issued warnings to participants and using evidence-gathering resources, obtained footage which will now be reviewed as part of an investigation into potential offences under the Terrorism Act 2000.
"As is normal for notified parades, we will also prepare a report to the Parades Commission on the conduct of the parade."