By Sophie Wingate, PA Political Correspondent
Rishi Sunak has insisted businesses "don't need to worry" about a planned hike in corporation tax from 19 per cent to 25 per cent in April.
The British prime minister, who is facing a rebellion over the policy as senior Tory MPs demand the rise is stopped, was challenged over the increase during a visit to Northern Ireland.
He was asked how the North will remain attractive for foreign direct investment once its corporation tax is double that of the Republic.
Mr Sunak said international companies are "queuing up" to invest in Northern Ireland once his new Windsor Framework for the region's post-Brexit trading arrangements is implemented, with access to EU and UK markets putting it in an "unbelievably special position".
Speaking at a Coca-Cola factory, the former chancellor said corporation tax is going up because "we're borrowing an enormous amount of money".
"That's not good. It's not good for the country, and we've got to get that borrowing down. We've got to do that in a responsible way and that's going to help us do it," he said.
The UK prime minister and chancellor Jeremy Hunt have faced pressure from senior Conservative MPs to use the spring Budget to scrap the planned corporation tax hike, including from former UK home secretary Priti Patel and ex-Tory leader Sir Iain Duncan Smith.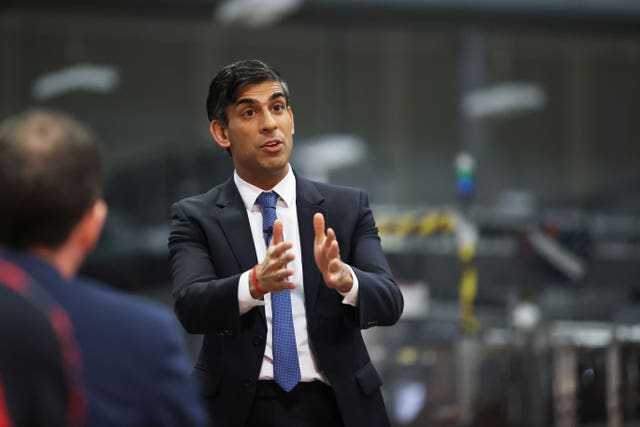 The right of the Tory party is pushing them to slash taxes ahead of the next election in a bid to revive the UK's stalling economy, which only narrowly avoided falling into recession last year.
Former prime ministers Boris Johnson and Liz Truss are among those advocating for cuts.
But Mr Sunak defended the planned corporation tax rise.
"This is why you don't need to worry about it. At 25 per cent, it will still be the lowest rate out of all the large economies that we compete with around the world. It also only applies to the biggest 10 per cent of companies."
He added he wanted to see businesses investing more, and spoke of an "incredibly generous tax break" for small or medium-sized businesses to invest back into their company or expand.
Today's agreement does what many said could not be done.

Now is the time to move forward as one country - one United Kingdom 🇬🇧 pic.twitter.com/6rnyRhVMIS

— Rishi Sunak (@RishiSunak) February 27, 2023
Businesses in Northern Ireland, the prime minister said, would benefit from being in "the world's most exciting economic zone".
"If we get this right, if we get this Framework implemented, if we get the Executive back up and running here, Northern Ireland is in the unbelievably special position – a unique position in the entire world, European continent – in having privileged access, not just to the UK home market, which is enormous… but also the European Union single market.
"That's like the world's most exciting economic zone."
The UK government aims to work with international companies to help them "take advantage of Northern Ireland's very special position", Mr Sunak added.
"And they are queuing up to do so, particularly from the US actually."
The prime minister gave an upbeat assessment of the UK's economy, saying the worst of inflation "is behind us".
Defending his approach on public sector pay, he said: "We've had to be disciplined because the worst thing I could do is not deliver on that pledge to halve inflation because it means you are still going to be dealing with bills going up in a year's time, and that's no good."
He promised that by the end of the year, "it's going to look and feel so much better, but we've just got to stick to the plan".
While developments since the autumn provide some positive fiscal news in the short term, it's far less clear that these improvements will persist into the medium term, where the outlook remains highly challenging.

Watch our pre-Spring Budget briefing: https://t.co/xJANUuVuBf pic.twitter.com/64eTdmVM9Y

— Institute for Fiscal Studies (@TheIFS) February 28, 2023
The Institute for Fiscal Studies (IFS) has said tax hikes or spending cuts would be needed to end public sector pay disputes and crippling strike action.
The UK is on course to borrow more than £30 billion less than forecast this year – largely due to the energy support scheme looking less costly than first feared.
However, this does not allow for permanent spending increases, such as increasing public sector pay to match inflation, according to the think tank.
Mr Sunak also insisted he was taking action to address the cost-of-living crisis, with the UK government's continuing cap on energy bills "a really big statement of support to everybody".
From April the price guarantee will become less generous, meaning the typical annual bill will rise to £3,000 from £2,500.
The IFS said Mr Hunt may look to extend the current energy support scheme in his March 15 Budget to allow households to benefit from the current lower cap for longer.