Jonathan McCambridge, PA
An offer on pay and terms of employment for adult education tutors will be made at the earliest opportunity, Tánaiste Micheál Martin has said.
Independent TD Marian Harkin raised the issue during Leaders' Questions in the Dáil, pointing out that tutors currently had to sign up for social welfare payments during the summer and holiday periods.
Dozens of tutors gathered at the gates of Leinster House earlier this week to call for public sector contracts and protest against working conditions.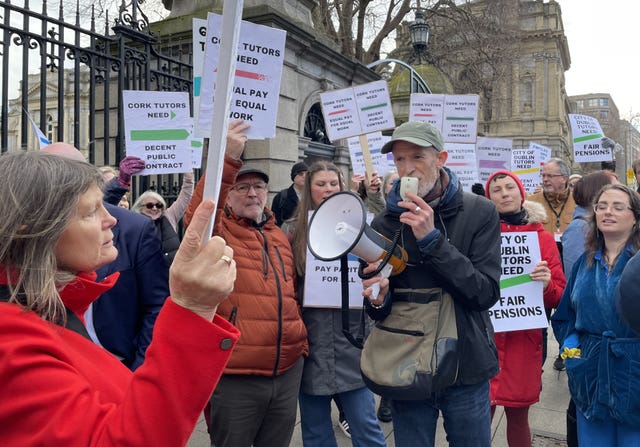 The Labour Court recommended in 2020 that the Government look at tutors' claims.
Ms Harkin told the Dáil that adult education tutors employed by education and training boards (ETBs) were paid at different rates in different parts of the country.
She said: "Many of these tutors are fully qualified teachers and are registered with the Teaching Council, yet they are being paid an unregistered rate.
"By far the biggest issue is that their hours are capped at 22 hours per week.
"They are not paid for any preparation, any research, any work they do in preparing lesson planning.
"So their salary is based on an unregistered teacher's salary and capped at 22 hours per week."
She added: "Adult education tutors do not get paid for the summer months, at Christmas and the Easter breaks.
"In fact, adult education tutors who protested outside the Dáil yesterday were on mid-term, but they all had to sign on for jobseekers for the week, as they have to do for most of the summer, at Christmas and Easter.
"This is really unfair. They deserve a proper contract of employment.
"In March 2020, almost three years ago, the Labour Court recommended that the Department of Education make the tutors an offer, and last July, tutors were promised that the proposal would be on the table by the end of September. Five months later and no word.
"Tánaiste, I want to ask you to use your influence to bring this to a satisfactory conclusion."
Mr Martin said: "In 2020, the Labour Court recommended that the official side make an offer and a joint proposal has been prepared by the Department of Further and Higher Education and the Department of Education, which retains regulatory responsibility.
"That proposal is currently under discussion with the Department of Public Expenditure and Reform with a view to finalising an offer to the unions at the earliest opportunity.
"There is still work to be done on this. Nothing is a fait accompli (finalised) here, but it is a matter that does need to be dealt with and resolved."
Ms Harkin said: "There are between 15 and 17 weeks every year when they are on jobseekers.
"You can see the urgency to deal with this matter, there has been an unacceptable delay in regularising their contracts."