By Gráinne Ní Aodha, PA
The brother of Natalie McNally has issued a call for information about her murder, saying that finding her killer was "all we have left".
Natalie McNally (32), who was 15 weeks pregnant with a baby boy, was stabbed to death at her home in Lurgan, Co Armagh, the week before Christmas.
Paramedics attended Ms McNally's house on Silverwood Green at around 10pm, on Monday, December 19th, where she was pronounced dead at the scene.
The charity Crimestoppers has offered a £20,000 (€22,500) reward for information which leads to the arrest and conviction of those responsible for her murder.
Police have also released CCTV footage of a man carrying a rucksack arriving at Silverwood Green, in Lurgan, on Sunday, December 18th, as part of their murder inquiry.
Declan McNally described his sister Natalie as fun, funny, kind and brilliant.
"She got on with every challenge," he told BBC's Good Morning Ulster, mentioning her type 1 diabetes diagnosis.
"She was just a wonderful person, it's hard to describe, she was just brilliant.
"We're devastated, it's like the bottom of the world has fallen off, it's just unbelievable. People say 'your worst nightmare', but you'd never have a nightmare like this.
"It's unbelievable, we're just trying to take it day by day, minute by minute."
Of his sister's pregnancy, he said: "She told the immediate family.
"So us, her brothers knew, and a few people. But our plan was on Christmas day, she was going to tell everybody.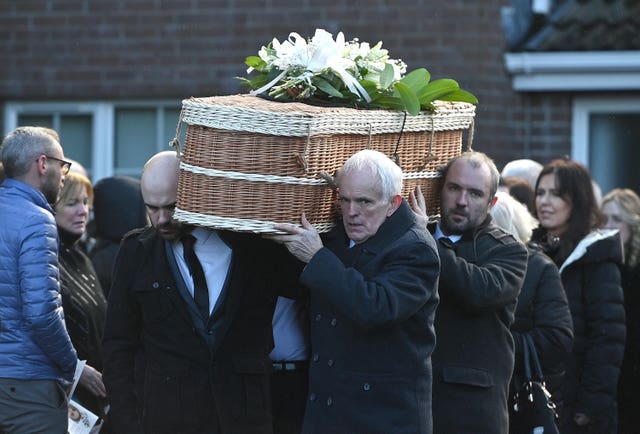 "It's devastating. My parents don't have any grandchildren, this was going to be their first grandchild."
On December 26th, several hundred people gathered in Lurgan for the funeral of Ms McNally, who is survived by her parents Noel and Bernadette, and her three brothers Brendan, Niall and Declan.
On Christmas Day, Brendan McNally said that he would not fully recover from his sister's death, and called for violence against women and girls to end.
Declan McNally said the support of people across Lurgan and beyond was helping the family get through the tragedy.
He added: "We just can't reiterate enough that if anyone has any information whatsoever, even if it seems insignificant, bring it to the police or bring it to Crimestoppers.
"We need justice because that's all we have left now, is to try and find out who and why did this to Natalie."