By Alex Green, PA Acting Deputy Entertainment Editor, in Liverpool
Irish Eurovision act Wild Youth will battle to secure a place in the grand final on Tuesday night.
The Dublin band will perform their song We Are One during the first of the contest's two semi-finals at the Liverpool Arena.
Ireland has participated in Eurovision more than 50 times and has a record seven wins, but has failed to qualify for the final since Ryan O'Shaughnessy entered with his song Together in 2018.
Wild Youth frontman Conor O'Donohoe has promised a "big and bold" performance to try to make it in 2023.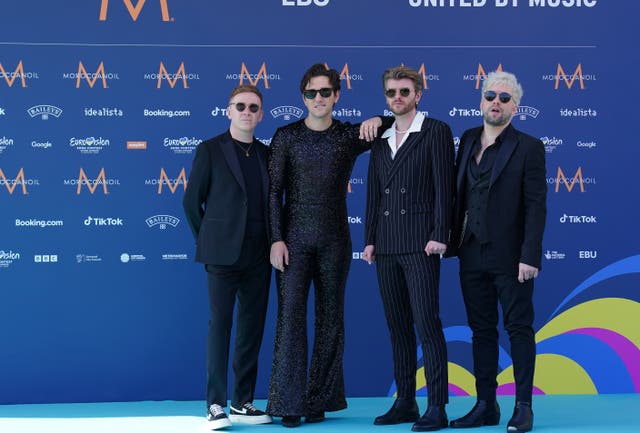 The band are scheduled to perform sixth in the running order, after Portugal and before Croatia.
Fifteen acts will perform in semi-final one with the top 10 progressing to the final.
But they face tough competition with previous winner Loreen representing Sweden and fan favourite Kaarija representing Finland also in that round.
The band was selected to represent Ireland during a contest on RTÉ's The Late Late Show, beating other contestants including former Sex Pistols frontman John Lydon and his band Public Image Ltd.
The band later became embroiled in a Twitter row with JK Rowling, after cutting ties with creative director Ian Banham when previous tweets, including one about a transgender woman, came to light.
The 20 qualifying acts from semi-final one and two will join the "big five" – the UK, Germany, France, Italy and Spain, along with last year's winners Ukraine to compete for the winning spot.
The 67th Eurovision Song Contest is taking place in Liverpool after the UK was chosen to host it on behalf of war-torn Ukraine – marking the first time the competition has been held in the UK for 25 years.
The competition kicked off in earnest on Sunday when the 37 competing acts took to a turquoise carpet welcome ceremony.
Mae Muller, 25, will compete for the UK with her track I Wrote A Song, which features tongue-in-cheek lyrics about a cheating ex-boyfriend and a propulsive dance beat.