The Stardust inquest, safeguarding laws, and US president Joe Biden's bid for re-election are some of the stories covered on Wednesday's front pages.
The Irish Times carries images of the victims killed in the Stardust fire as an inquest into the tragedy opened on Tuesday.
The paper also reports 'Irish cousins welcome Biden re-election bid', after the US president announced on Tuesday that he will content the next election.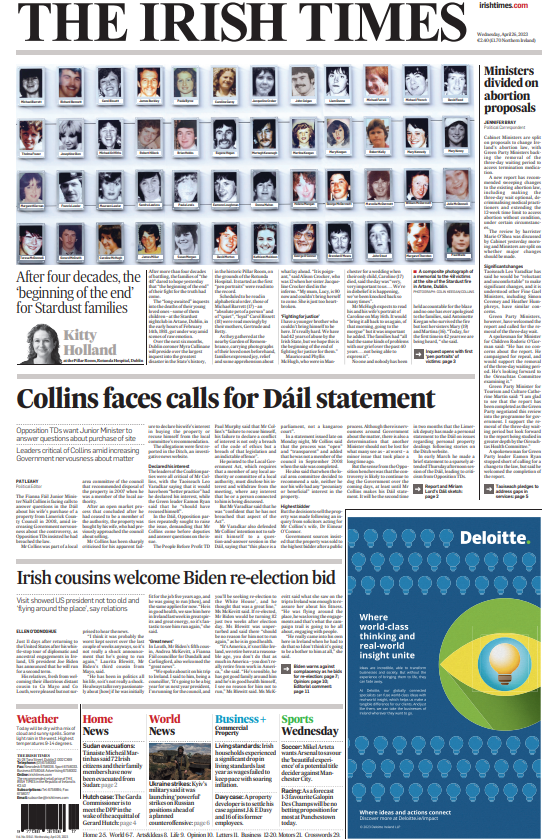 The Irish Examiner also covers the Stardust inquest, alongside a report on the sentencing of a retired solicitor for the sexual assault of an eight-year-old girl, with which The Echo also leads.
Meanwhile, the Irish Independent claims 'families face triple threat of mortgage hikes by the end of July', while the Irish Daily Mail reports that new safeguarding laws will 'stop families abusing elderly'.
Good morning, here's the front page of today's Irish Independent pic.twitter.com/wypo4PVUV2

— Independent.ie (@Independent_ie) April 26, 2023
For all this and lots more, pick up a copy of Wednesday's Irish Daily Mail. pic.twitter.com/ij9GsXxaeJ

— The Irish Daily Mail (@irishdailymail) April 26, 2023
Finally, both the Irish Daily Star and Irish Daily Mirror both cover controversy surrounding Ireland's Eurovision entry after Wild Youth cut ties with creative director Ian Banham over alleged comments he made online.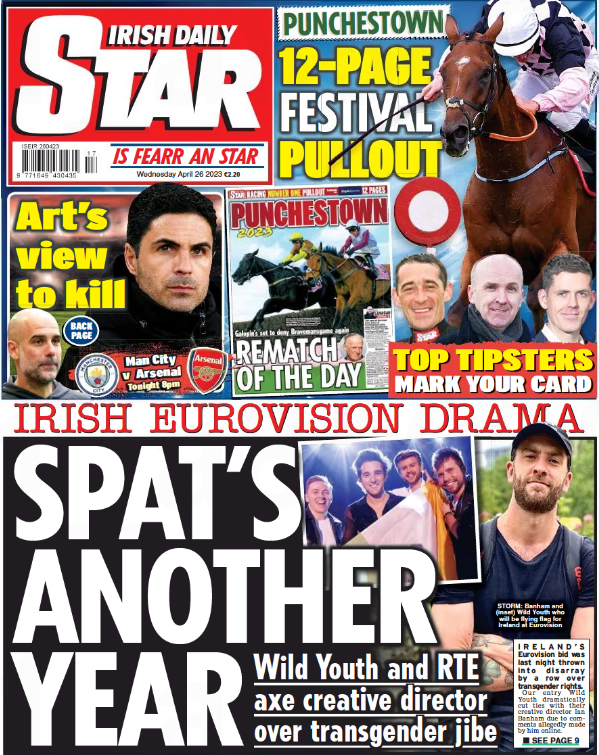 In Britain, evacuation efforts in Sudan and a royal phone-hacking case at the High Court dominate the front pages of Wednesday's newspapers.
The Times says British prime minister Rishi Sunak has defended the rescue of British civilians from Sudan two days after diplomats were evacuated while the Metro reports people eligible for the airlift have been told to make their own way to a Khartoum airport.
The Times: Canadian boasts of sending suicide poison to 'hundreds' in UK #TomorrowsPapersToday pic.twitter.com/wqIQtG779t

— George Mann 🫧⚒️🫧 (@sgfmann) April 25, 2023
Tomorrow's Paper Today 📰

RUN FOR YOUR LIVES

🔴 UK evacuation begins
🔴 Brits told: Make own way to airstrip
🔴 PM promises 'many more flights'#TomorrowsPapersToday pic.twitter.com/moRXwtlFGE

— Metro (@MetroUK) April 25, 2023
UK troops are ready to use force in Khartoum as they look to evacuate UK civilians from Sudan, the i reports.
Wednesday's front page: UK troops ready to use force in Khartoum airlift#TomorrowsPapersToday pic.twitter.com/49fjzpi6tt

— i newspaper (@theipaper) April 25, 2023
The Independent says the High Court heard Britain's Prince William was paid a "very large sum of money" by News Group Newspapers (NGN) to settle a phone-hacking claim.
Independent digital front page: William 'paid by Sun publisher' over phone-hacking #TomorrowsPapersToday pic.twitter.com/H4YDIz73qr

— George Mann 🫧⚒️🫧 (@sgfmann) April 25, 2023
The Daily Telegraph reports that any chance of reconciliation between Britain's Prince Harry and his brother has been left in tatters after he dragged William into his hacking court case.
📰The front page of tomorrow's Daily Telegraph:

'Harry court claims leave Coronation peace hopes in tatters'#TomorrowsPapersToday

Sign up for the Front Page newsletterhttps://t.co/x8AV4Oomry pic.twitter.com/EMwXmGYMpK

— The Telegraph (@Telegraph) April 25, 2023
The High Court has heard the Britain's late Queen Elizabeth II threatened NGN with legal action over the phone-hacking scandal, but she was "undermined" by Charles, according to the Guardian.
Guardian front page, Wednesday 26 April 2023: Charles 'undermined queen over plan to sue Murdoch', says Harry pic.twitter.com/dZu9W1TwEI

— The Guardian (@guardian) April 25, 2023
The Daily Mirror reveals the "shocking state of hunger" in Britain with families receiving three million food parcels last year – one million of those for children.
Wednesday's front page: Food Banks Heartbreak #TomorrowsPapersToday pic.twitter.com/7UsdPlRVb0

— The Mirror (@DailyMirror) April 25, 2023
The Daily Mail focuses on a Bank of England chief who said people need to accept they are poorer and should stop asking for more pay.
Daily Mail: You need to accept you are poorer! #TomorrowsPapersToday pic.twitter.com/bElwguZPdY

— George Mann 🫧⚒️🫧 (@sgfmann) April 25, 2023
The Financial Times leads with US president Joe Biden announcing he will run for a second term in the White House in 2024.
Just published: front page of the Financial Times, UK edition, Wednesday 26 April https://t.co/JoCpg801Xq pic.twitter.com/N6v5dRXOca

— Financial Times (@FinancialTimes) April 25, 2023
British chancellor Jeremy Hunt is being urged to cut taxes to help people struggling with the cost-of-living, the Daily Express said.
Wednesday's front page: Surely, A Tax Cut Boost Is Now On The Cards? #TomorrowsPapersToday https://t.co/mSSlr1JFNw pic.twitter.com/O0HgCidYfF

— Daily Express (@Daily_Express) April 25, 2023
And the Daily Star said "boffins" have said Jaffa Cakes are the best for dunking in your tea.
#JaffaCakes survived a whopping 116 dunks 😮 @jaffacakes #TomorrowsPapersToday https://t.co/MhUciq0Gzg pic.twitter.com/HkvQqyLlqF

— Daily Star (@dailystar) April 25, 2023