Thursday's front pages look at an industrial accident in Cork, subsidies for builders, and Gerry Hutch at the shops after his acquittal.
The Irish Times reports that one-third of students in universities and colleges are experiencing "serious" financial problems.
A father of three young children is fighting for his life following the industrial accident at a Stryker plant in Cork, according to the Irish Examiner.
A new housing package to address the rising cost of construction and incentivise the development of affordable homes is being developed by the Government, the Irish Independent reports.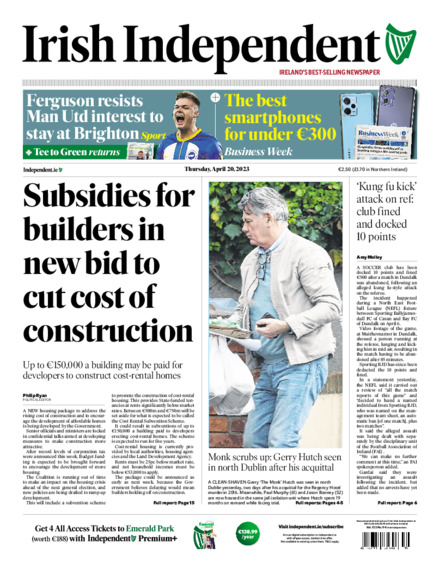 The Irish Daily Mail focuses on the heated exchanges between senior civil servant Robert Watt and TDs at the Oireachtas Finance Committee.
The Irish Daily Mirror and Irish Daily Star publish photographs of Gerry 'The Monk' Hutch on the streets of Dublin after his acquittal in a Special Criminal Court trial.
The Belfast Telegraph ​reports that the senior PSNI officer who survived a gun attack told the British prime minister last week from his hospital bed that "we can't go back" to Northern Ireland's troubled past.
Meanwhile, the cost-of-living crisis dominates the British front pages on Thursday as inflation numbers held stubborn.
The i reports the UK could face a 5 per cent increase in interest rates after failing to curb inflation rates, which sit at 10.1%.
Thursday's front page: UK faces 5% interest rates after failing to tame inflation#TomorrowsPapersToday pic.twitter.com/ezj92sSdbo

— i newspaper (@theipaper) April 19, 2023
The Daily Mirror says the cost-of-living crisis is worsening with some food prices rising seven times faster than wages.
Tomorrow's Daily Mirror front page: A Living Nightmare#TomorrowsPapersToday https://t.co/kcy1xMrVxB pic.twitter.com/mZoS7HWFar

— The Mirror (@DailyMirror) April 19, 2023
Double-digit inflation offers little hope for an end to cost of living crisis with food prices still soaring and fears over pay demands, according to the Financial Times.
Just published: front page of the Financial Times, UK edition, Thursday 20 April https://t.co/1LH33h0ozN pic.twitter.com/LIKHpM9uLt

— Financial Times (@FinancialTimes) April 19, 2023
An MP said the "penny must drop" as Russian ships with armed guards are allegedly monitoring wind farms and gas pipelines off UK shores, according to The Daily Telegraph.
The front page of tomorrow's Daily Telegraph:

'Russian 'spy ships' threaten to sabotage UK energy supply'#TomorrowsPapersToday

Sign up for the Front Page newsletterhttps://t.co/x8AV4Oomry pic.twitter.com/1Z1O0N6xPR

— The Telegraph (@Telegraph) April 19, 2023
The Times reports judges may lose power to block migrant deportation flights as Tory rebels win concessions from prime minister Rishi Sunak over Rwanda deportations.
THE TIMES: Judges lose power to block migrant flights #TomorrowsPapersToday pic.twitter.com/zjQjWtcZGE

— Neil Henderson (@hendopolis) April 19, 2023
The Daily Mail says a foreign rapist is still living in the UK three years after Keir Starmer opposed his deportation.
Thursday's @DailymailUK #mailfrontpages pic.twitter.com/DmU6Npt6Gm

— Daily Mail U.K. (@DailyMailUK) April 19, 2023
Two MPs from the opposing sides of politics have united to call for joint action to protect women's rights, the Daily Express reports.
Thursday's front page: We Must Unite To Protect Women's Rights#TomorrowsPapersToday https://t.co/xxtFMa8AnO pic.twitter.com/SpYPCfz47L

— Daily Express (@Daily_Express) April 19, 2023
Pro-Russian hackers are trying to destroy critical services over the UK's support of Ukraine, according to the Metro.
Tomorrow's Paper Today 📰

PUTIN CYBER BLITZ ON UK

🔴 Pro-Russian hackers aim to destroy critical services over our Ukraine support, says Dowden#TomorrowsPapersToday pic.twitter.com/gpNQvnINlY

— Metro (@MetroUK) April 19, 2023
And the Daily Star led with the flat-earther who proved the earth is not flat in a costly experiment.
Thursday's front page - 'LOOK AWAY NOW IF YOU ARE EASILY SHOCKED'https://t.co/492IwtqI1R pic.twitter.com/YSu1h78tlT

— Daily Star (@dailystar) April 19, 2023