Debate over a 'Dublin allowance' for teachers and nurses, and tensions within Cabinet over facial recognition technology are among the stories that feature on Monday's front pages.
Tánaiste Micheál Martin has described the argument for a  Dublin allowance for teachers and nurses as "very, very challenging", The Irish Times reports.
The Irish Examiner leads with a story on demands for a juvenile ICU in Cork, while Cabinet tensions over facial recognition technology also make the front page.
The Irish Independent leads with a story on a rise in vehicle theft.
The Echo leads with a story on traffic problems in Douglas, Cork.
The Irish Daily Mail leads with a story on people's personal data being sold on the dark web following data breaches.
Don't miss your token for a delicious free coffee and muffin at @bbs_bakers inside Monday's Irish Daily Mail. pic.twitter.com/Ve5eJ2fK8W

— The Irish Daily Mail (@irishdailymail) April 17, 2023
The Herald leads with stories on car theft and the Gerry Hutch trial.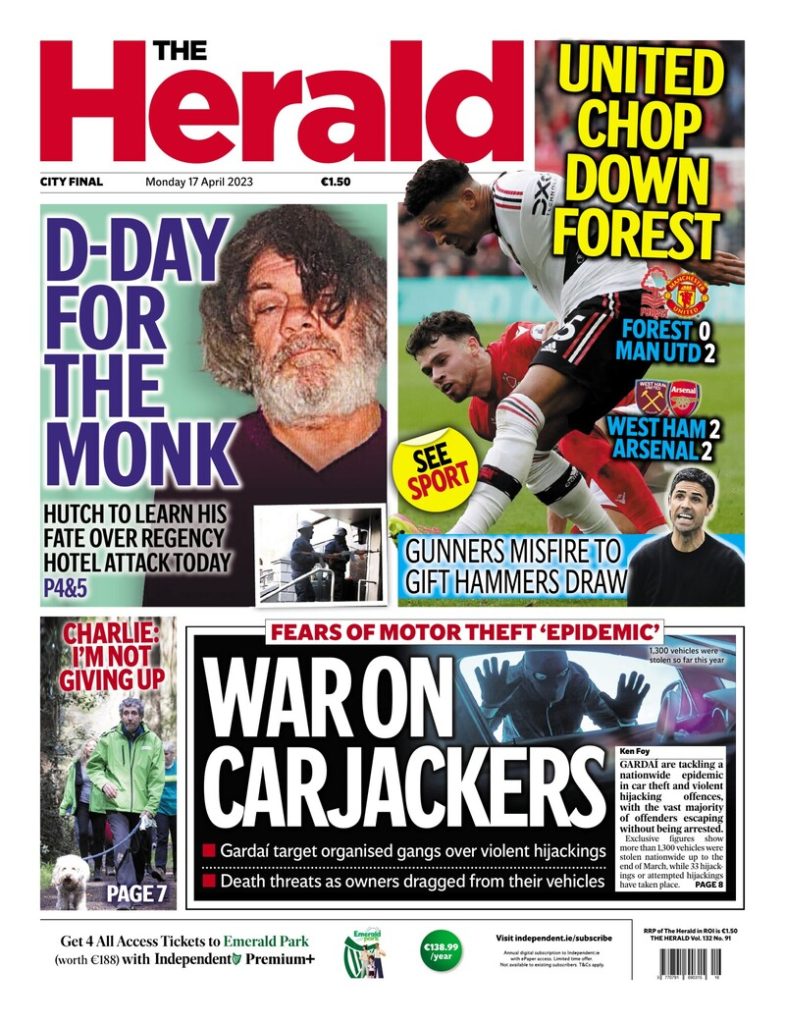 The estate of Freddie Scappaticci, an IRA informer, is facing civil claims from over 30 of his victims, the Belfast Telegraph reports.
An Alliance councillor suffering abuse while canvassing is the main story on The Irish News front page.
Good morning. Today's #FrontPage

Taxi drivers and tour guides sue GCHQ over 'IRA' claim

Alliance councillor tells of 'republican scum' ordeal

Read: https://t.co/JyzDL4zLBq

Subscribe: https://t.co/y5tlLNKqEJ

Home Delivery: https://t.co/I1gVh0j2z1 pic.twitter.com/ti5IKent0k

— The Irish News (@irish_news) April 17, 2023
NHS strikes, a lack of maths skills and children being denied mental health help led the stories across the UK's papers on Monday.
The Daily Telegraph reports pressure is growing on Nicola Sturgeon to quit the Scottish National Party as police investigate claims of attempting to hide figures.
The front page of tomorrow's Daily Telegraph:

'Pressure grows on Sturgeon to quit SNP'#TomorrowsPapersToday

Sign up for the Front Page newsletterhttps://t.co/x8AV4Oomry pic.twitter.com/TutaS5X2HA

— The Telegraph (@Telegraph) April 16, 2023
The Bank of England is considering an urgent reform of their deposit guarantee scheme, according to the Financial Times.
Just published: front page of the Financial Times UK edition Monday April 17 https://t.co/Kbhleuk00j pic.twitter.com/KDOgcoOUKF

— Financial Times (@FinancialTimes) April 16, 2023
The Daily Mail says there were 6,500 cases of sexual abuse over a three-year period in hospitals across the UK.
Monday's @DailyMailUK #MailFrontPages pic.twitter.com/xk8jZKTCwl

— Daily Mail U.K. (@DailyMailUK) April 16, 2023
The Guardian reports 250,000 children have been denied help by the NHS for mental health issues as it struggles to keep up with surging case loads.
Guardian front page, Monday 17 April 2023: Revealed: 250,000 children denied NHS help for mental health issues pic.twitter.com/C6TFcHI0HL

— The Guardian (@guardian) April 16, 2023
UK prime minister Rishi Sunak said the economy is "suffering" from a failure of numeracy skills and will take aim at the "anti-maths mindset", according to The Times.
Monday's TIMES: "Adults should all be able to do maths, PM insists"#TomorrowsPapersToday pic.twitter.com/nEYT7zEqL2

— Allie Hodgkins-Brown (@AllieHBNews) April 16, 2023
The i reports MPs are hoping nurse strikes could end within weeks due to union splits over the new pay deal.
Monday's front page: Ministers pin hopes of end to nurses' strikes on union splits over pay deal

🔴Latest from @singharj: https://t.co/wTBtOIgY0l #TomorrowsPapersToday pic.twitter.com/RnQsq8ColY

— i newspaper (@theipaper) April 16, 2023
The Daily Mirror leads with an investigation into the sale of vapes to children, finding almost half of shops investigated sold nicotine to minors.
Monday's front page: Vapes sold illegally to kids #TomorrowsPapersToday https://t.co/g42v0kuBel pic.twitter.com/hRC9Vyy9ZV

— The Mirror (@DailyMirror) April 16, 2023
Metro reports the NHS is spending more than £1 million a week on private ambulances to help deal with strikes.
Tomorrow's Paper Today 📰

'£1m A WEEK' NHS PRIVATE AMBULANCES

🔴 Union warns of 'shocking waste' as trusts hire outside firms to cope with 999 call-outs
#TomorrowsPapersToday pic.twitter.com/6bAykOP9MV

— Metro (@MetroUK) April 16, 2023
And the Daily Star says bookmakers are confident it will be the hottest April on record, with temperatures to reach 20C.
Tomorrow's Daily Star front page: Record Baker #TomorrowsPapersToday https://t.co/2IJYt7O4HG pic.twitter.com/uORKHrCwtw

— Daily Star (@dailystar) April 16, 2023
The international edition of The New York Times leads with a story on Ukrainian hopes for a boost in support following the leaking of US military documents.
Monday's International NEW YORK Times: "Ukrainians hope leaks open eyes of backers" #TomorrowsPapersToday pic.twitter.com/VVo0eHXEba

— Allie Hodgkins-Brown (@AllieHBNews) April 16, 2023