DNA tests in the 'Kerry babies' case and warnings over school capacity issues are some of the stories covered on Monday's front pages.
The Irish Times leads with comments from the Irish Planning Institute, claiming the State's planning system s not 'workable'.
The paper also reports a man, who the US believes to be a Russian spy, used an Irish bank account to secure a college place in the US.
The Irish Examiner's lead story is on capacity issues in schools, particularly following efforts to provide places for children fleeing the war in Ukraine.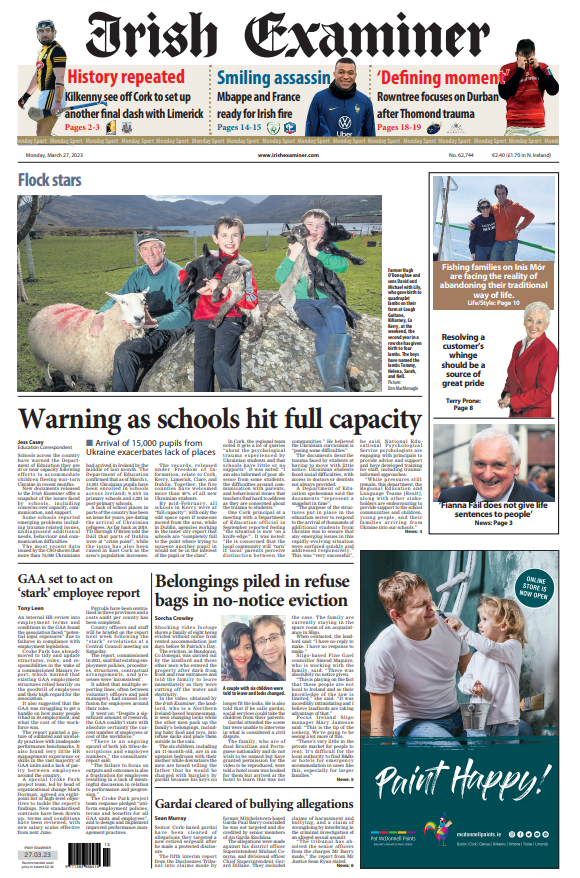 The Echo also focuses on education, reporting that children with autism are in a 'battle for rights', as transport issues are impacting attendances.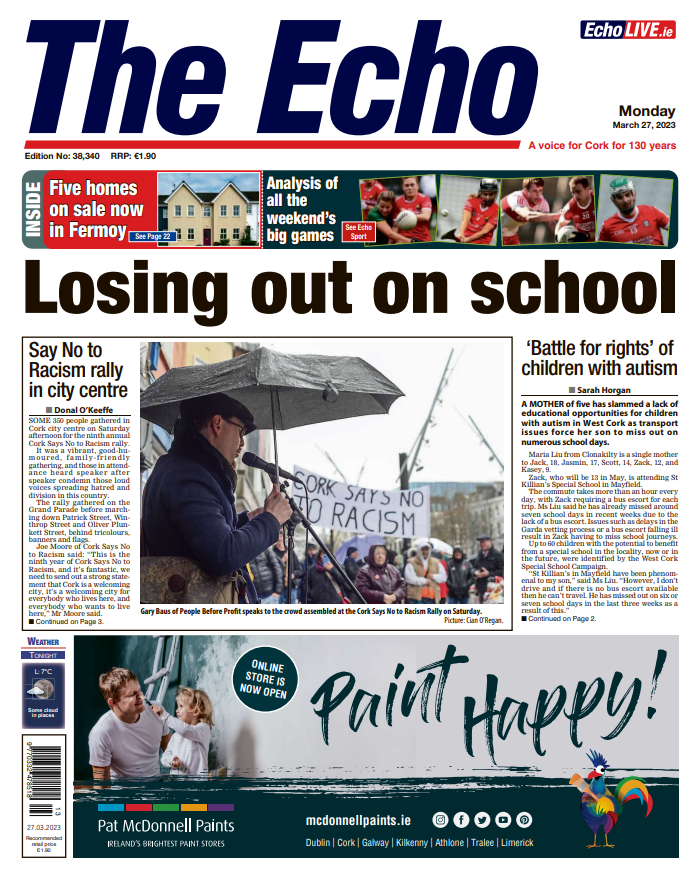 And finally, the Irish Daily Star, Irish Daily Mirror and Irish Daily Mirror all lead with comments from the solicitor representing two people arrested in connection with the 'Kerry babies' case.
A man and a woman were arrested last week on suspicion of murder, but have since been released without charge and a file will be prepared for the Director of Prosecutions.
The solicitor claims the man and woman are innocent, but will remain in limbo as DNA results are awaited in the case.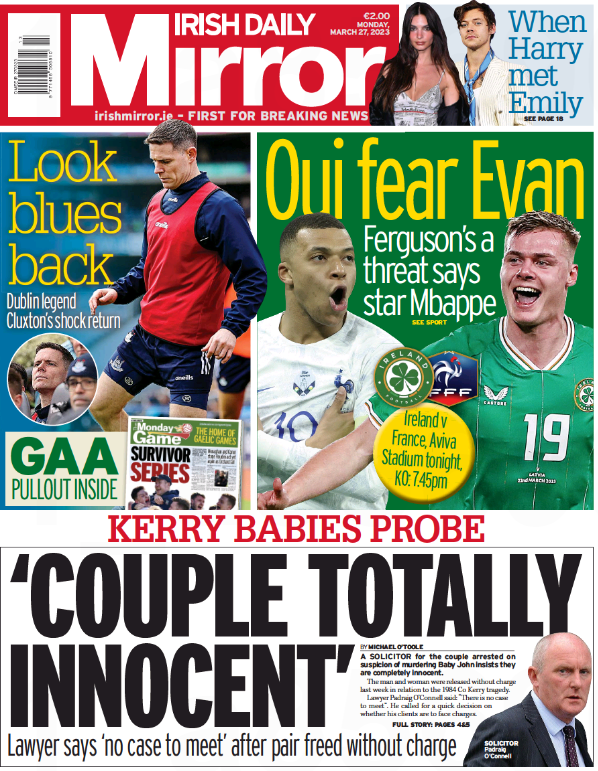 In the UK, British prime minister Rishi Sunak's anti-social behaviour crackdown features across Monday's front pages, along with an NHS recruitment drive and Harry Styles' public kiss with an American supermodel.
The Daily Telegraph leads with Mr Sunak's "crackdown" on anti-social behaviour, including police being given new powers on beggars, allowing them to confront and move rough sleepers.
📰The front page of tomorrow's Daily Telegraph:

'PM targets beggars in crackdown on crime'#TomorrowsPapersToday

Sign up for the Front Page newsletterhttps://t.co/x8AV4Oomry pic.twitter.com/T4v0y5MLNb

— The Telegraph (@Telegraph) March 26, 2023
The Daily Mirror reports on the fake job interview which caught MP Kwasi Kwarteng telling a fake consultancy firm he can help them meet with former British prime minister Boris Johnson, while asking for £10,000 a day.
Monday's front page: Give me £10k a day & I can get you Boris #TomorrowsPapersToday https://t.co/GZOUXhxeOZ pic.twitter.com/xiz6Yrmt1U

— The Mirror (@DailyMirror) March 26, 2023
The i leads with Mr Sunak trying to calm the nerves of up to 60 Tory politicians who are threatening to rebel ahead of the Illegal Migration Bill landing in the UK's House of Commons on Monday.
Monday's front page: Sunak moves to calm Tory nerves ahead of crunch vote on small boats #TomorrowsPapersToday

Latest by @janemerrick23: https://t.co/M8ntvVAnaB pic.twitter.com/j1H0FeTTa2

— i newspaper (@theipaper) March 26, 2023
The Daily Star reports on the 150mph jet stream that will bring storms to the UK.
Monday's Front Page 📰

🌧Oh pour blimey! ☔️ It's going to rain cats and dogs! 🙀🐶

Read more: https://t.co/nwqDxWMFZx#TomorrowsPapersToday pic.twitter.com/0vJwsv02vf

— Daily Star (@dailystar) March 26, 2023
The Daily Mail says more than 1,000 sex offenders have escaped criminal convictions over the last two years by apologising to their victims.
MAIL: Sex offenders let off crimes … just by sending sorry #TomorrowsPapersToday pic.twitter.com/Cafv4qPqAc

— Neil Henderson (@hendopolis) March 26, 2023
The Sun leads with a picture of Harry Styles kissing American supermodel Emily Ratajkowski in Tokyo.
On tomorrow's front page: Harry Styles and Emily Ratajkowski 'growing close for weeks' before steamy snog in Japanhttps://t.co/hVf7uBYrx0 pic.twitter.com/xpuBhhOMWX

— The Sun (@TheSun) March 26, 2023
The Independent reports on Britain's organ donor crisis with more families refusing to sign up to donate while the British government promises to "fix the system".
INDEPENDENT: Revealed: Britain's organ donor crisis #TomorrowsPapersToday pic.twitter.com/5P2I0BG8lW

— Neil Henderson (@hendopolis) March 26, 2023
The Guardian reports on a call for a "homegrown recruitment drive" for the NHS in England to avoid a 571,000-employee shortage within 13 years.
Guardian front page, Monday 27 March 2023: NHS chiefs sound alarm on spiralling staff shortages pic.twitter.com/vsFNy0ZR7S

— The Guardian (@guardian) March 26, 2023
The Daily Express reports on the Tory rebels who are urging Mr Sunak to close the loophole allowing foreign judges to interfere with Britain's borders.
Front page: Tory rebels fight to close migrant loophole #tomorrowspapertoday

England player ratings after win over Ukraine: https://t.co/TJqO1BKf36 pic.twitter.com/U0g649u2TY

— Daily Express (@Daily_Express) March 26, 2023
And Mr Sunak's consideration of whether to ban "laughing gas" cannisters from sale to the public as a part of his crackdown on anti-social behaviour leads the Metro.
Tomorrow's Paper Today 📰

HIPPY CRACKDOWN

🔴 We'll tackle 'scourge' of laughing gas canisters, says Gove as new crime measures revealed#tomorrowspapertoday pic.twitter.com/vKGSCrh11M

— Metro (@MetroUK) March 26, 2023