By Gráinne Ní Aodha, PA in Washington DC
Taoiseach Leo Varadkar has defended the Government's decision to end the eviction ban at the end of the month but admitted it had not yet "turned the corner" on the housing crisis.
Speaking to reporters in Washington DC, as part of the annual St Patrick's Day visit, he said the country had never had more people in work before, and that extending the moratorium would also eventually lead to a spike in evictions.
Although he admitted the Government had not yet "turned the corner" on the housing crisis, he said it had made real strides on constructing new homes.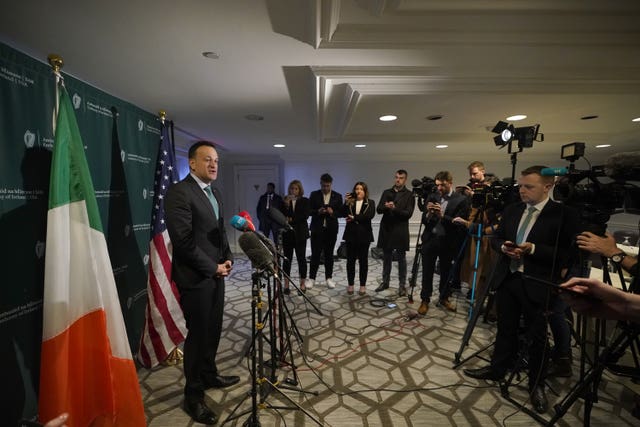 The Taoiseach also said that the figures released by the Residential Tenancies Board (RTB), that indicated 4,700 eviction notices had been served in the three months before the eviction ban was introduced, were not comparable to previous quarters.
He also said that a "small portion" of people who were being evicted ended up in emergency accommodation, and what was needed was more social and affordable homes instead.
"The vast majority of people who have a notice to quit served on them don't end up in emergency accommodation – they're either able to find alternative accommodation, and they often do that with the help of the State through our various different schemes.
"The difficulty always with the winter evictions ban – and I think it's forgotten sometimes that it was a winter eviction ban, it was always to end on March 31st – is that when you take any measure like that, once you lift it you're going to see a spike.
"You hold something back for a period, you're going to see a spike. Just putting it off to September, or putting it off to January as some of the opposition parties are suggesting, you'd see the same issue arise then, except it would probably be worse."
He also remained confident that his Government would win the vote on a motion planned by Sinn Féin to call for the eviction ban to be extended for a period of time.
"I can't speak for every individual backbencher, but I'm certainly confident we will win the vote," he said.
"I would point out that it's a non-binding motion, it's not legislation. So even if we did win the vote, it actually wouldn't matter. I'm not sure Sinn Féin are telling people that, but that is the case, it's a non-binding motion.
"And also the motion, as I understand it, just puts off the lifting of the eviction ban to January. All you'd see if you did that is the same problems arising. I don't think any honest person seriously believes that it wouldn't be the same issue and same spike that would arise – it might actually be worse in January. And I don't see why doing that in the middle of winter, in January, would be a good idea at all."
Mr Varadkar said the Government had not turned the corner on homelessness, but had done so on new housing construction.
"After the crash, we were down to building maybe 5,000 homes a year at one point. In my first term as Taoiseach, we got up to 20,000, we're now at 30,000 a year. I think we'll exceed that this year," he said.
"That's if you include student accommodation and derelicts being brought back into use, which you should, so what he said was turning the corner on new home construction, housing construction. I think that's correct.
"I also think we're making a lot of progress on homeownership at last. And my number one priority in housing policy is homeownership. And we saw more new homeowners last year … which gives me a lot of heart, and I can see that continuing this year as well.
"But being able to say that we've turned the corner on the housing crisis as a whole, I think we're certainly not there yet, and I wouldn't be able to say that we're there until we solve things like the numbers of people in emergency accommodation at least stabilising if not falling, and certainly we'd like to see house prices and rents in real terms relative to incomes, rising faster than average rents and average house prices, and we're not there yet."
Mr Varadkar also said there was not "an acceptable number of homelessness, quite frankly".
"There'll always be a certain number of people that need emergency accommodation, but that's a small number and it should only be for a few weeks, so I don't have an acceptable number," he said.
"What the winter eviction ban did, it didn't reduce the number of people in emergency accommodation but it did defer some people from being required to quit the property that they lived in.
"And no matter when you lift (the ban), that's going to happen. That's the difficulty really, is that if you did reimpose it again, let's say for another few months or another six months, no matter when you lift it you're going to face this problem.
"And that is the difficulty with any kind of temporary measure, the same thing would apply to rent pressure zones. Any temporary measure when you lift it, you have that effect, so reimposing it would just then create the problem again, whenever you try to lift it. That's the reality of it unfortunately."